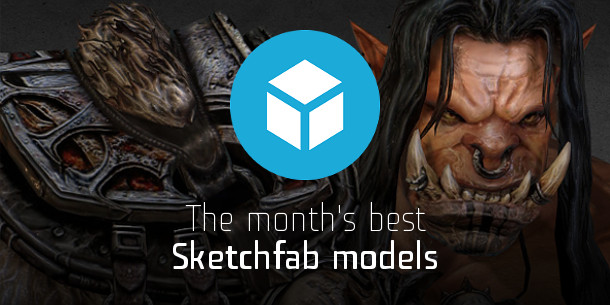 Sketchfab provides a simple way for anyone to publish and share their 3D models online. To celebrate the best in real-time 3D art, we asked the Sketchfab team to pick the 10 greatest models on the site this month.
To interact with a model in 3D, click the large Play icon in the centre of the frame.
To find out more about a model, click the small Sketchfab logo on the bottom left of the frame.
Grommash Hellscream by goblin165cm
9.9k faces, animated
World of Warcraft fan art, based on Blizzard's Warlords of Draenor promo imagery.
Fishing Trip by Joel Zakrisson
193.8k faces
Wizardess by Giovanny Arce
4.6k faces
Based on a concept image by John Polidora.
Sejuani Dawnchaser by Yekaterina Bourykina
11.7k faces
A skin for Riot Games' League of Legends. See wireframes in Yekaterina's ArtStation gallery.
Tiki Treasure! by Glen Fox
43.4k faces
Free to download.
Workshop module by Vitaliy Kovalchuk
24.6k faces
Spyro the dragon by zcythe
.3k faces, animated
Spyro the Dragon fan art.
Hornbill by Coolblu
261.9k faces
Hominid by Valery 'ResThoughtless' Nilova
9.8k faces, animated
A creature from indie VR title Cradle of Links.
Chevrolet 3100 monster pickup by Olli Teittinen
44.8k faces
A car model from Gameloft's racing title Asphalt Xtreme.

Want to vote for a model of the month? Just Like your favourites on the Sketchfab site, or upload your own!
Tags: best 3D models, best real-time models, download, free, League of Legends, models of the month, November 2016, real time, Sketchfab, Warlords of Draenor, World of Warcraft, Yekaterina Bourykina