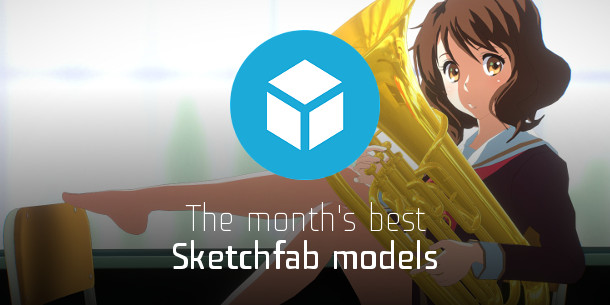 Sketchfab provides a simple way for anyone to publish and share their 3D models online. To celebrate the best in real-time 3D art, we asked the Sketchfab team to pick the 10 greatest models uploaded to the site this month.
To interact with a model in 3D, click the large Play icon in the centre of the frame.
To find out more about a model, click the small Sketchfab logo on the bottom left of the frame.
Goldfish by Liam Broughm
2.3k faces, animated
Highland cow by Juuso Mattila
5.0k faces, animated
Kumiko – Hibike! Euphonium by Paul Mahoney
245.9k faces
Based on a still from the anime Sound! Euphonium. See the original 2D image here.
Dudbear by Nate Ten
54.0k faces
Wizard Cat by moonstone
4.6k faces
Post-Apocalyptic Pirate Captain by Roumen Filipov
19.9k faces
Based on a concept by Johannes Helgeson. See renders of the character in Roumen's ArtStation gallery.
Sentry Final by Tor Frick
23.0k faces, animated
Bio Hunter by Frederic Degraeve
4.9k faces
1984 Apple Macintosh 128k (Expanded) by d0rkmushr00m
27.0k faces

Want to vote for a model of the month? Just Like your favourites on the Sketchfab site, or upload your own!
Tags: April 2016, best 3D models, best real-time models, models of the month, real time, Sketchfab