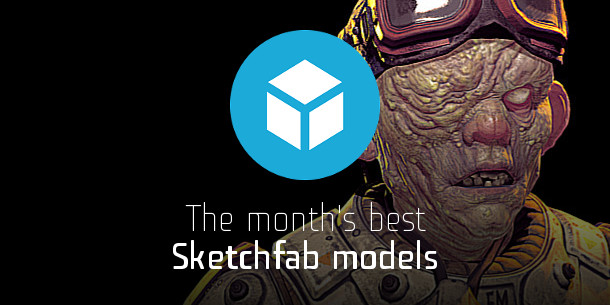 Sketchfab provides a simple way for anyone to publish and share their 3D models online. To celebrate the best in real-time 3D art, we asked the Sketchfab team to pick the 10 greatest models uploaded to the site this month.
To interact with a model in 3D, click the large Play icon in the centre of the frame.
To find out more about a model, click the small Sketchfab logo on the bottom left of the frame.
Dust Pirate Final by Gavin Goulden
45.7k faces
Gavin Goulden is lead character artist at Insomniac Games. See how this post-apocalyptic character was created in Gavin's Artist In Residence thread on Sketchfab's forum.
Undying – Corrupted Scourge by Jeremy Klein
4.8k faces
A commercial skin for Undying available from the Dota 2 workshop on Steam.
Post-Apocalyptic Pirate Captain by roumen.filipov
19.9k faces
A low-poly game character based on a concept by Johannes Helgeson.
Xeno Hunter by mitkoogrozev
176.5k faces
Cyril's Shack by Robin Dao
57.6k faces, animated
See a CG breakdown of the scene in Robin's ArtStation gallery.
Mammoth House new by Wei Hong Wang
24.1k faces
Coal-Powered-Spider-Walker [Animation] by Justin Sullivan
477.3k faces, animated
Supermarine Spitfire by Renafox
6.3k faces
Equipment Control Panels by Robert (Max) Ramirez
14.7k faces
Yuel Atra by Mafubash
24.0k faces

Want to vote for a model of the month? Just Like your favourites on the Sketchfab site, or upload your own!
Tags: best 3D models, download, free, March 2016, models of the month, real time, Sketchfab