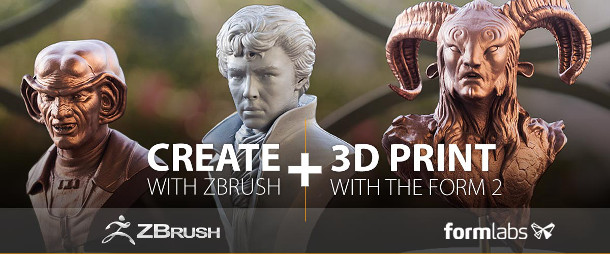 Pixologic has announced that it is working with 3D printing firm Formlabs to develop an "upgraded" 3D printing plugin for ZBrush enabling users to transfer models to Formlabs' PreForm software.
The plugin is intended to enable ZBrush artists to output "digital maquettes, prototypes, concepts, jewelry designs, art toys, articulated toys, figurines and statuettes" using Formlabs' Form 2 printer.
Making preparing models for 3D printing a one-click process
PreForm's One-Click Print functionality automates most of the set-up required when 3D printing a model, automatically choosing orientation and layout, and adding support structures where necessary.
It's a similar philosophy to that of KeyShot, Luxion's rendering software, which got its own live link to ZBrush early last year.
Both should enable ZBrush's core user base of creature designers and digital sculptors to output their work without the need to master too many other technical skills.
Pricing and availability
ZBrush's blog post doesn't go into a lot of detail, so we don't yet know if the 3D printing plugin is an update to the existing 3D Print Exporter or a separate add-on.
Given that PreForm itself is a free download, we assume that the plugin will also be free, although you'll need a fair bit of spare cash for the printer itself: complete Form 2 kits clock in at $3,499.
No release date has been announced, although Formlabs will be demoing on Formlabs' booth at CES 2016.
Read more about the upgraded ZBrush 3D printing plugin on Pixologic's blog
Tags: 3D Print Exporter, 3D printing, 3D printing plugin, figurine, Form 2, Formlabs, maquette, model preparation, model set-up, One-Click Print, Pixologic, plugin, PreForm, price, release date, statuette, toy, ZBrush