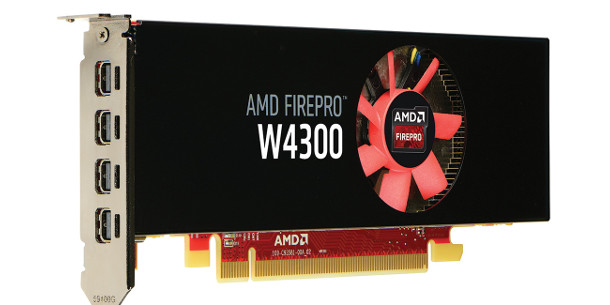 AMD has unveiled the FirePro W4300: a new small form factor mid-range professional graphics card.
Although the card is being targeted heavily at CAD users, both in AMD's news announcement and on its website, it may be of interest to DCC professionals who need a compact mid-range GPU with low power draw.
Same specs as the FirePro W5100, but smaller
In terms of specifications, the FirePro W4300 is pretty much identical to the existing FirePro W5100, with 4GB DDR5 memory and 1.43 Tflops of peak single-precision floating-point performance.
However, it's compact enough to fit into small form factor workstations, and has a lower power draw: under 50W, compared to the W5100's 75W maximum power consumption.
Like the W5100, it has four display outputs – unsuprisingly, Mini DisplayPort 1.2 rather than standard DisplayPort – each with a maximum output resolution of 4,096 x 2,160 pixels.
Although the card's data sheet only namechecks CAD applications, AMD tells us that it has "all the certifications for DCC [tools] as well".
Pricing and availability
The FirePro W4300 is in production, and is expected to become available in third-party workstations in 2016.
The card has an MSRP of $379, although AnandTech reports the street price is likely to be $299, which would make it slightly cheaper than the FirePro W5100.
Read more about the FirePro W4300 on AMD's website
Tags: AMD, CAD, DCC, FirePro, FirePro W4300, FirePro W5100, GPU, graphics card, memory, Mini DisplayPort, power consumption, price, professional, small form factor, specifications, workstation