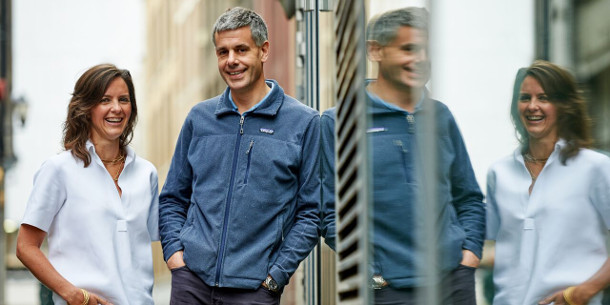 CEOs old and new: UK broadcast executive Alex Mahon (left) becomes The Foundry's new CEO, taking over from Bill Collis (right), who remains full-time at the leading DCC tools developer, becoming company president.
UK TV executive Alex Mahon has joined The Foundry as its new CEO, taking over from Bill Collis. The announcement follows the company's acquisition by venture capital firm HgCapital earlier this year.
Collis remains full-time at The Foundry, becoming the company's president.
Extensive experience in production and broadcast strategy
Alex Mahon was previously CEO of Shine Group, the group of production companies responsible for popular British TV series like reality cooking show MasterChef and spy drama Spooks.
She previously held senior roles at production companies Talkback Thames and FremantleMedia Group, and European entertainment network RTL Group.
Mahon is also a non-executive director of the Edinburgh International Television Festival, chairman of the Royal Television Society Awards, and sits on the panel set up by the UK government to review the future of the BBC.
Appointed to steer future expansion
Over the past ten years, The Foundry, originally a small plugin vendor, has grown rapidly, acquiring a range of now-industry-standard VFX tools, including Nuke and Mari, and merging with Modo developer Luxology.
Mahon's appointment is expected to help steer the company through a new period of expansion.
According to HgCapital managing partner Nic Humphries, Mahon's "wealth of experience within … will support the huge growth potential of [The Foundry] over the next stage of its development."
In a post on The Foundry's forum, former CEO Bill Collis said: "It's been a long-term ambition of mine to find someone to take over as CEO. We need someone new with the skills to organise and motivate 300+ people."
Collis commented that his change of role means that "instead of running the company I'm going to do the things I am good at and really enjoy … focusing on identifying new initiatives and technology partnerships."
"These are the things that have been my most important contribution to our success; these are the things that I need to get back to."
Read The Foundry's official news announcement on the change of CEO
Tags: Alex Mahon, Bill Collis, CEO, new CEO, president, Shine Group, The Foundry