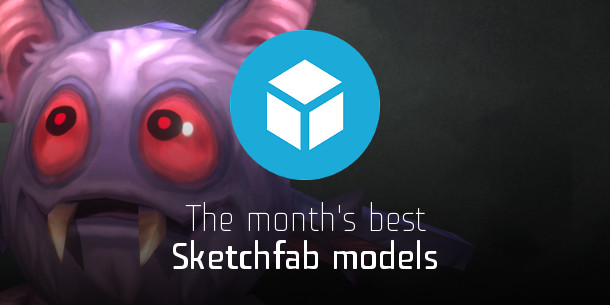 Sketchfab provides a simple way for anyone to publish and share their 3D models online. To celebrate the best in real-time 3D art, we asked the Sketchfab team to pick the 10 greatest models uploaded to the site this month.
To interact with a model in 3D, click the large Play icon in the centre of the frame.
To find out more about a model, click the small Sketchfab logo on the bottom left of the frame.
Indivisible Ajna – Fanart by Mafubash (Matt B)
7.1k faces
Fan art of the a character from Indivisible, Lab Zero's upcoming RPG. Visit the game's Kickstarter.
Troll Bridge v115 by Christian Bloch
2.0M faces
At two million faces, Troll Bridge isn't your conventional real-time model. But it is one of the sets from the upcoming Terry Pratchett fan film of the same name, so it gets bonus points for that.
1970's Automobile (Part One) by Tim Vizesi
17.3kfaces
A 1970s Nissan Skyline 2000 GT-R Kenmeri. Part of a series of vehicle models from the 1920s to 2020.
Micro Bat Vlad by BitGem
618 faces
At time of posting, you can download the model for free from BitGem's website.
Thriller by oskarsdzenis
17.0k faces
This model took third place in Sketchfab's 2015 Halloween Haunted House contest.
Lone Wolf and Cub by technoir (Jason Gil)
5.5k faces
The winning entry in GameArtisans.org's Huminals art challenge.
Skull Kid by Kevin Ingrassia
24.6k faces
Spectral Deer by Riley Eastman
8.3k faces
Hammer by Gaurav Naik
978 faces
Superman by Armando Lira López
1.6k faces
Based on a concept by Amin Faramarzian. You can see a final render in Armando's ArtStation gallery.

Want to vote for a model of the month? Just Like your favourites on the Sketchfab site, or upload your own!
Tags: best 3D models, models of the month, November 2015, real time, Sketchfab