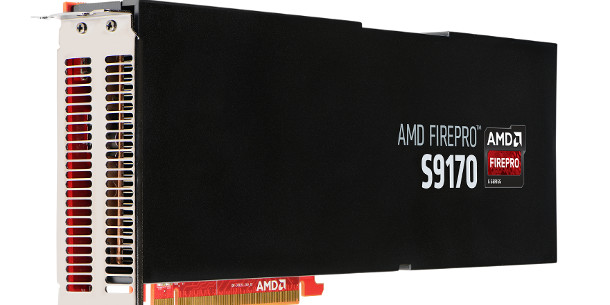 AMD has unveiled the FirePro S9170, its new top-of-the-line server GPU, which it bills as the fastest single-GPU server card available, and the first server card of any type to support 32GB of graphics RAM.
The card is pitched at ultra-compute-intensive workflows: primarily things like geophysics simulation and research, but also clipping the high end of visual effects and feature animation.
More on-board RAM than any other server card
The main selling point for the new card is its 32GB of GDDR5 RAM: double that of AMD's existing FirePro S9150 and higher than that of either Nvidia's K40 and K80 boards.
As with the S9150, the memory bandwidth is 320GB/s, intermediate between the K40 and K80.
Compute performance up, support for OpenCL 2.0
AMD describes the S9170's compute performance as an "incremental" increase over the S9150, but that's still 5.24 Tflops of peak single-precision performance and 2.62 Tflops of peak double-precision performance.
That makes it the fastest single-GPU card currently available, and not far off the dual-GPU K80 in terms of peak double-precision performance.
AMD also claims that the S9170 can manage sustained double-precision performance in excess of 2.0Tflops, which is higher than the K80's 1.87Tflops base clock figure.
Maximum power draw is 270W, up from 235W in the S9150, although there is still a 235W option. As with the S9150, the S9170 is a passively cooled dual-slot card.
The S9170 is also the first board to support OpenCL 2.0, the latest version of the open standard for GPGPU computing, the benefits of which AMD discusses in a series of developer blog posts here.
Pricing and availability
The FirePro S9170 should ship later in Q3 this year. AMD didn't give an MSRP, but noted that it would be "incrementally … but not radically" more expensive than the S9150, which has a street price of around $3,000.
Read more about the FirePro S9170 on AMD's website
Tags: 32GB RAM, AMD, compute performance, FirePro, GPU, graphics board, graphics card, graphics RAM, K40, K80, NVIDIA, OpenCL 2.0, performance, price, release date, S9150, S9170, server, specifications, specs