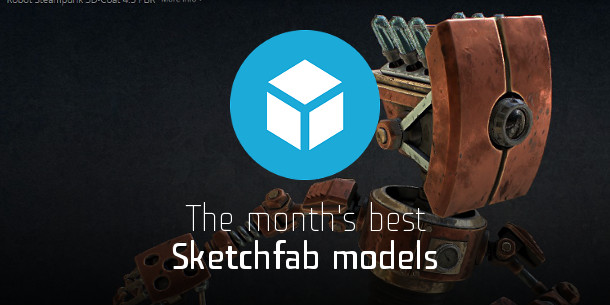 Sketchfab provides a simple way for anyone to publish and share their 3D models online. To celebrate the best in real-time 3D art, we asked the Sketchfab team to pick the 10 greatest models uploaded to the site this month.
To interact with a model in 3D, click the large Play icon in the centre of the frame.
To find out more about a model, click the small Sketchfab logo on the bottom left of the frame.
Robot Steampunk 3D-Coat 4.5 PBR by 3D-Coat
92.4k faces
Uploaded by the 3D-Coat development team, the model was textured in 3D-Coat 4.5 using the new smart materials and physically based rendering functionality.
Desert Girl by Matt B (Mafubash)
7.9k faces
Loot n Fruit Set by BitGem
19.9k faces
HTYD fan art diorama by dary
10.5k faces
Main Frame – Hacking Terminal by Kimmo Kaunela
1.9k faces
256 Town Section 01 by hausfly
100.0k faces
Oculus Rift – The Fox by Tim Vizesi
24.6k faces
See a mental ray render of the scene in Tim's ArtStation gallery.
Anju by Dennis Kurzeja
3.1k faces
Model based on a character concept by Joakim Sandberg.
Bricks and Graves on the Grass by dawkinsia
4.7k faces
Star Guardian Lux by Maddy Taylor Kenyon
4.0k faces
Based on concept art by Riot Games' Paul Kwon.

Want to vote for a model of the month? Just Like your favourites on the Sketchfab site, or upload your own!
Tags: best 3D models, June 2015, models of the month, real time, Sketchfab