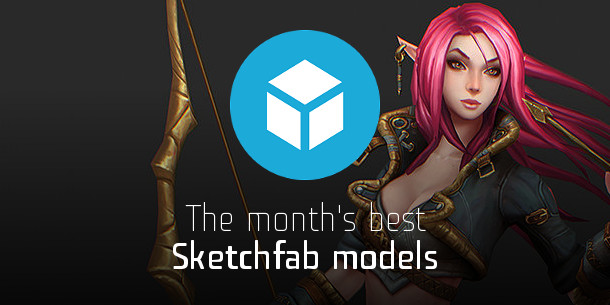 Sketchfab provides a simple way for anyone to publish and share their 3D models online. To celebrate the best in real-time 3D art, we asked the Sketchfab team to pick the 10 greatest models uploaded to the site this month.
To interact with a model in 3D, click the large Play icon in the centre of the frame.
To find out more about a model, click the small Sketchfab logo on the bottom left of the frame.
Archer by Yekaterina Bourykina
8.6k faces
PBR Fiat Punto GT by Karol Miklas
22.2k faces
Goblin Airship by Robbie Reed
11.4k faces
Walking On The Moon – Polycount Tower by David Géraud
84.6k faces
Toon houses day version by luyssport
4.7k faces
Army attack Godzilla by Pepezilla
117.1k faces
Light by vasilpeychev
1.1M faces
USR "Assassin" – Fractured Space by Edge Case Games
335.3k faces
Lizars Soldier Color-Monster by Amadeu
987.1k faces
Breaking Bad by Tim Vizesi
43.2k faces

Want to vote for a model of the month? Just Like your favourites on the Sketchfab site, or upload your own!
Tags: best 3D models, March 2015, models of the month, real time, Sketchfab