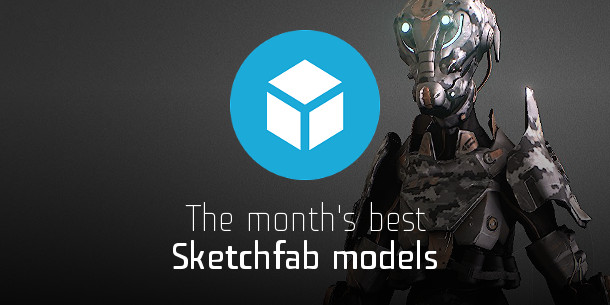 Sketchfab provides a simple way for anyone to publish and share their 3D models online. To celebrate the best in real-time 3D art, we asked the Sketchfab team to pick the 10 greatest models uploaded to the site this month.
To interact with a model in 3D, click the large Play icon in the centre of the frame.
To find out more about a model, click the small Sketchfab logo on the bottom left of the frame.



Salarian STG by John Mesplay
26.1k faces



ClockBird V2 by Jakob Baldwin
989.8k faces



Iron Demon by Blake Seow
14.9k faces



Blue by Catacroquer
8.4k faces



Sea Monster by Dmytro Dosckoch
2.9k faces



Chibi Gear Solid by Glen Fox
35.0k faces



Tyrant King by Marcel Schanz
18.4k faces



Centaur by patrix
14.6k faces



M4 Sherman 'Fury' by Wargaming.net
54.3k faces



Peach Castle by mStuff
20.2k faces

Want to vote for a model of the month? Just Like your favourites on the Sketchfab site, or upload your own!
Tags: 3D models, download, models of the month, Sketchfab