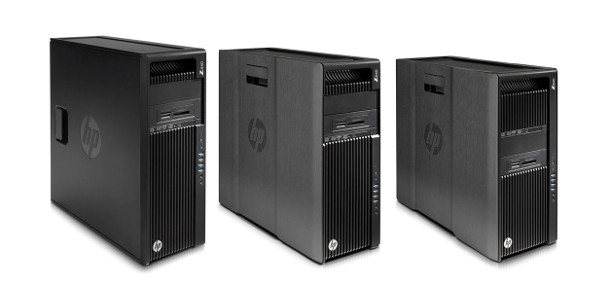 HP has announced the three new models in its Z-Series line-up of professional graphics workstations. The Z440, Z640 and Z840 will replace the old Z420, Z620 and Z820 when they ship later this year.
Updated across the board
HP hasn't posted full specs on its own website, but Develop3D has a very detailed report on the new models.
Updated: the official HP data sheets for the Z440, Z640 and Z840 are up on its website.
Both CPUs and GPUs have been updated to the latest models: Intel's Haswell-EP Xeon E5 v3 series in the case of the CPU, according to Develop, and current professional AMD and Nvidia cards, in the case of the GPU.
RAM has also been increased: the feature highlights for the Z440 include "a 100 percent increase in system memory compared to the HP Z420", while the Z840 now has support for up to 2TB, up from 512GB in the Z820.
The new workstations also support Thunderbolt 2 for faster throughput of large files, and HP's own Z Turbo Drive SSDs, which connect via PCIe rather than SATA to minimise data bottlenecks.
The press announcement also namechecks HP's tool-free chassis design and build quality, praised by our reviewer when we reviewed the Z820 on its release two years ago.
Pricing and availability
Pricing varies marginally from the existing line-up, with starting prices for the Z440, Z640 and Z840 listed as $1,299, $1,759 and $2,399 – although actual price will depend on which optional upgrades you choose.
The new workstations are due to ship in October. HP has also announced two new mobile workstations, the HP ZBook 15 G2 and 17 G2, due to ship in September. You can read about all five at the link below.
Read HP's news announcement for the new Z440, Z640 and Z840 workstations
Visit the Z-Series workstation website
Tags: AMD, HP, NVIDIA, price, professional graphics, release date, specifications, Thunderbolt 2, workstations, Xeon, Z series, Z Turbo Drive, Z440, Z640, Z840