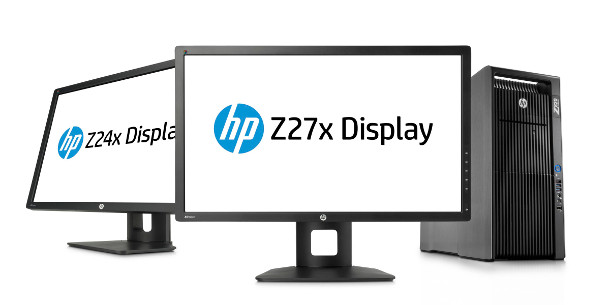 HP has released two new models in its DreamColor range, one of them bringing the cost of the powerful – but notoriously expensive – professional graphics displays down to a more affordable $599.
Like its siblings, the new 24″ HP Z24x display provides up to 1.07 billion on-screen colours and has a 178° viewing angle, both horizontal and vertical.
It runs at a 1,900 x 1,200 native resolution and has all the connectivity options you'd expect of a professional display, including five USB 3.0 ports.
More features for more money
The 27″ HP Z27x ups the price to $1,499, for which – in addition to the larger screen – you get 2,560 x 1,440 native resolution, an even wider colour gamut and an interface optmised for viewing in low light levels.
It also features HP's hostless integrated calibration engine, which means that you don't have to hook the display up to a Windows system to colour-calibrate it, as you do with the Z24x.
You can read more details in the press release below, or see a comparison chart of the DreamColor displays on HP's website.
PRESS RELEASE (Excerpts)
HP today announced two new HP DreamColor Displays, once again disrupting the color-critical display market by achieving new levels of affordability and color accuracy.
The HP Z27x and Z24x displays for PCs and Macs feature HP's second-generation DreamColor Engine and provide up to 1.07 billion on-screen colors, achieving color error so small that it is not discernable to the human eye. Compared to the previous-generation product, the new displays include up to 60 percent more pixels, contain up to a 4,000 percent increase in the internal color palette and are up to 57 percent thinner.
The HP Z24x DreamColor Display delivers the color accuracy and consistency that has become synonymous with the HP DreamColor brand, at less than 25 percent of the price of the original HP DreamColor display.
The HP Z27x DreamColor Display breaks new technology barriers by providing:
Three times the color accuracy over the previous generation
The first color-critical display featuring HP's hostless integrated calibration engine with built-in support for third-party professional color measurement instruments
Ethernet-based remote management with an integrated web server that provides unprecedented control of the display
A published software development kit (SDK) that allows customers to fully integrate the HP Z27x into their color workflows
The most affordable color-critical display capable of 4K support
The HP Z27x and HP Z24x DreamColor Displays are designed for professionals for whom accurate color management is essential, and consumers who seek to use only the best in technology innovations. Key features of the new displays include:
Consistent 10-bit color accuracy from design to production with push-button color space selection and easy color calibration
One-button access to presets including sRGB D65, sRGB D50, Adobe® RGB, BT.709, BT.2020 and DCI-P3
Ability to easily create a custom color space with full control over primaries, white point and tone response
Easy connection to existing workflows through support by Windows, Mac or Linux operating systems: the HP Z24x requires a Windows system for user calibration, but is supported on Windows, Mac and Linux
The HP Z27x DreamColor Display also offers:
An ultrawide Digital Cinema color gamut with 100 percent of sRGB, 100 percent of AdobeRGB and 99 percent of DCI-P3
The HP Night Vision interface with auto-fade button backlights and selectable red button backlight color for better low-light viewing in darkened working conditions
Pricing and availability
The HP DreamColor Z27x and Z24x are available today for $1,499 and $599, respectively.
Tags: color gamut, display, DreamColor, graphics, HP, monitor, price, professional, resolution, specifications, Z24x, Z27x