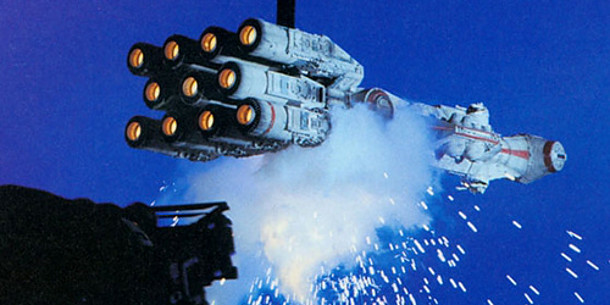 Star Wars, and its Dykstraflex camera rig, forms one of Empire's "special effects milestones that shaped cinema". Whether it's the definitive list is open to debate, but it's a fun way to spend a coffee break.
Empire magazine has posted its list of 19 "special effects milestones that shaped cinema" – or at least, those from the mid 1970s onwards. ("From Star Wars to Gravity", as the title has it.)
As ever, the fun of these things is as much the entries you don't agree with as the ones you do, but it's a pretty well-thought-out list, and quite a brave one, focusing on technologies more than individual movies – which means that mediocre films that pioneered a specific technique (notably, Sky Captain and the World of Tomorrow and its concept of the 'digital backlot') find a place over better-loved movies like Blade Runner.
There are definitely nits you can pick (a lot of movies did digital oceans before Life of Pi), and the time period seems kinda arbitrary (despite the title, the list starts in 1976, with the invention of Steadicam) – but overall, it's a fun way to kill ten minutes.
Read the full article on Empire's website
Tags: best, Empire, films, gravity, list, milestones, movies, of all time, special effects, star wars, vfx, visual effects