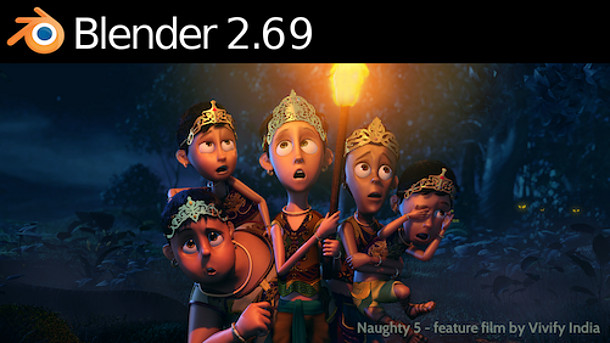 Originally posted on 8 October 2013. Scroll down for updates.
The Blender Foundation has made the Release Candidate of Blender 2.69 available for download, adding FBX import to the open-source 3D package.
Blender has been able to export FBX files for some time – functionality improved in the 2.69 release – but import was previously precluded by the licence terms of the Autodesk-owned file format.
Fewer features, more bugfixes
Aside from that news – which is going to make a lot of people using Blender in commercial pipelines very happy – version 2.69 is lighter on new features than recent releases.
There are a few new modelling tools, including a hidden-wire display to help with retopology; a new hair shader in the Cycles renderer; and support for plane tracking in the motion tracker.
But as the 2.6x series comes towards its end, the focus is more on bugfixes than new features: over 270 of them, according to the release notes.
Next stop: core architecture
The Blender Foundation is now targeting core performance in the Blender 2.7 series of releases, then larger features – a unified physics system has been mooted – in the 2.8 releases.
Updated 4 November 2013: Blender 2.69 has now been released officially.
Read a full list of features in Blender 2.69
Tags: 2.7, 2.8, autodesk, Blender 2.69, bugfixes, Cycles, FBX, hair shader, import, new features, plane tracking, release candidate