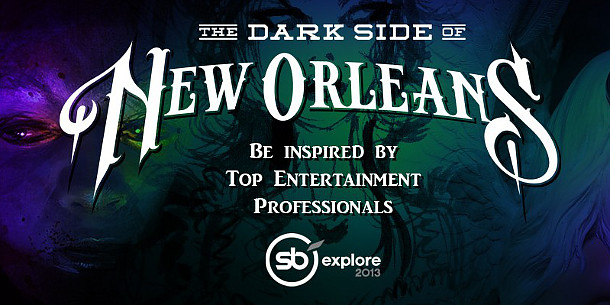 The good folks at Steambot Studios are offering CG Channel readers a special 37% discount on tickets to their SB Explore concept art workshop, which takes place in New Orleans from 22-26 May.
The list of instructors at the event reads like a Who's Who of concept art, including Halo 4's Sparth, Guild Wars 2's Kekai Kotaki and Steambot founder – and veteran of Prometheus and Ender's Game – David Levy.
As well as getting to hear about the workflows of leading concept artists, visitors to the event will be able to hang out with them in person. According to Levy: "The main idea [for SB Explore] is to do a workshop that was more about exchanging information and techniques with other artists directly."
Register today and save $150
A three-day pass to the workshop normally costs $399, but thanks to the offer, CG Channel readers get $150 off. To claim the discount, just enter the code cgchannel when you register online.
There are also a few tickets remaining for the VIP tour of New Orleans with the speakers, which precedes the workshop itself. Combined entry to the tour and workshop costs $599.
Visit the SB Explore website
(Includes travel details and the full speaker line-up)
Register for a three-day pass to SB Explore
(Enter the code cgchannel to claim your $150 discount)
Read our interview with David Levy
Tags: Concept Art, conference, David Levy, digital painting, discount, event, Kekai Kotaki, New Orleans, Nicolas Bouvier, offer, SB Explore, Sparth, Steambot Studios, ticket, Training, vyle, workshop