The Foundry has released Mari 2.0, adding a brand-new layer system to the 3D paint package.
The new functionality should be immediately familiar to anyone who has used Photoshop, with options to create masks, adjustment layers and set blending modes – but there are a few nice twists that tailor it to a dedicated texture-painting workflow.
"When we went out and spoke to people about a layers-based paint system, there were holes in [existing] workflow we thought we could improve on," commented Matt Brealey, product designer at The Foundry.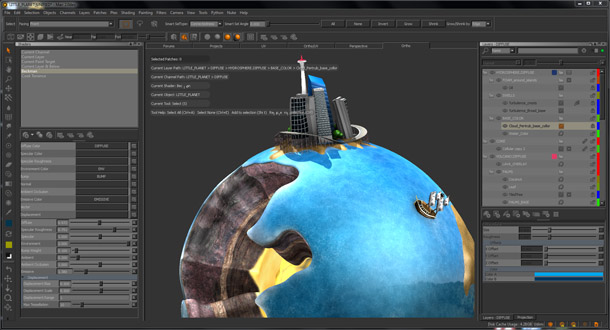 Most obvious of these is the flexibility with which mask and adjustment layers can be used: each can be applied to layer stacks, or to individual layers, or to one another – a process that can then be iterated.
Layers can also be dragged and dropped between stacks, retaining a bidirectional linkage, so that, for example, any changes made to an adjustment layer for the diffuse texture automatically updates the same layer for the bump, or vice versa.
Layers can be displayed selectively via icons in the UI (for example, enabling users to toggle between viewing only where they are painting a mask and the effect of the full layer stack); and there are options to search for layers by tags or keywords in large multi-layer projects.
There are also a range of procedural effects, and options for controlling their appearance.
Feedback from beta testers
At the Mari 2.0 launch event, Framestore's head of texturing for film, Michael Bohri, discussed his workflow when texturing the cyclops on Wrath of the Titans, and how it would have differed if he had been using version 2.0.
"One of the things I always found frustrating with working with Mari 1.5 was baking out intermediate shaders," he said. "Having to bake them down then plug the results into another shader was quite time-consuming."
Bohri revealed that on first using Mari 2.0, he found the new functionality "almost overwhelming. It's like a labyrinth [of] mask groups and adjustment stacks," but that "the immediacy of creating layers and stacking them up … is a lot more efficient than having to create shader modules".
He also commented that he expected to have to round-trip projects to Photoshop or Nuke less with version 2.0 of Mari, largely thanks to the scope for more refined grading that the new layer system offers.
Answering an old user request
The new layer system brings the software full circle. As Mari product manager Jack Greasley revealed, when the software was first in development at Weta: "The very first request that was logged for Mari, around seven years ago, was a super-advanced layer system with all of this cool stuff."
Mari 2.0 is shipping now for Windows and Linux, price $1,995.
PRESS RELEASE (Excerpts)
Leading visual effects and computer graphics software developer, The Foundry has launched MARI 2.0, a revolutionary version of its 3D digital paint tool that introduces a brand new, artist-focused layer system.
Staying true to MARI's roots this major release is focused on enhancing the painting experience for 3D artists. The addition of the new layer system means MARI is easier to use than ever before and will be a familiar working environment for users of Adobe® Photoshop® and other layer based paint tools.
Jack Greasley, MARI Product Manager at The Foundry comments: "We have spent a long time working on the nuts and bolts of this layer system for MARI and we believe 2.0 surpasses anything else on the market today. We wanted to really push the limits and give artists a working environment that feels both familiar and revolutionary at the same time."
Inside MARI's layer system
The layer system has all the features artists expect from the most advanced layer based workflows available today and much more. The streamlined Layer View in MARI 2.0 introduces powerful grouping, tagging and filtering options making even highly complex stacks easy to navigate and control. Procedural Layers let artists easily create the look they want, seamlessly blending procedural and painted detail with the same toolkit. The possibilities are endless.
Going beyond the functionality of any existing software on the market, every layer has its own Mask Group. Every mask is effectively a full layer stack in its own right, allowing artists to use blending, groups, adjustments and procedurals in all their masks.
Shared Layers mean artists can cut down on the bookkeeping that goes hand in hand with reusing layers and masks. Now they can simply share the layer within a stack and any changes they make can be automatically updated across the rest.
Justin Holt, Lead Texture Artist at Image Engine comments: "This is the version that we have all been patiently waiting for. I have to say that it has been an absolute joy to use MARI 2.0. With the introduction of the new layer system, texture painters will be welcomed with a warm feeling of nostalgia from the days of painting in Photoshop alongside a renewed sense of excitement for the potential of what they will be able to paint, entirely non-destructively, with this revolutionary version of MARI."
Jens Kafitz, Senior Texture Artist at Weta Digital comments: "The new layer system in MARI 2.0 enhances the way you can work with masks and adjustment layers and is consistent with what you would find with Photoshop. There is also good compatibility between the two applications making the back and forth easier. A new projection mask system and new caching features to help manage the data on complex assets are also great additions to the new version of MARI."
Read more about the new features in Mari 2.0
Download a 15-day trial of Mari 2.0 (Registration required)
Tags: 3d paint, adjustment layers, digital painting, layers, Mari, Mari 2.0, masks, painting, procedurals, texturing, The Foundry