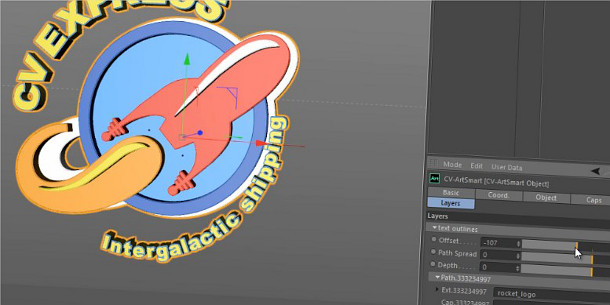 Maxon has released ArtSmart, a new plugin for handling artwork from Illustrator or PDF files within Cinema 4D, via its Cineversity training website.
Aimed at motion graphics artists, ArtSmart provides options for adjusting the Z offset between paths in an Illustrator file, and adjusting caps and fillets.
The tool can automatically generate materials corresponding to individual fill colours within each layer.
Users of Cinema 4D's Broadcast or Studio editions can also apply MoGraph Effectors to each layer, or to each path within a layer.
ArtSmart is free to anyone with a Cineversity user account.
Watch a video summary of ArtSmart's features or download the plugin
Tags: add-on, ArtSmart, Cinema 4D, free, illustrator, PDF, plugin