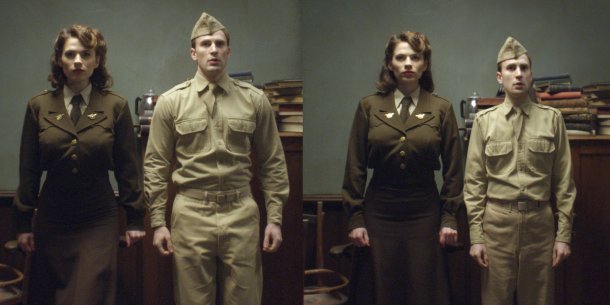 Lola Visual Effects' 'skinny Steve' shots from Captain America: one of the counter-examples chosen by fxguide's Mike Seymour in response to David Cohen's claim that much of the thrill has gone out of modern VFX.
Mike Seymour of fxguide has posted an interesting response to a recent article from David Cohen of Variety, in which Cohen laments that much of the thrill has gone out of visual effects in the past five years.
"Compared to 2005, [VFX news] is boring and sad," writes Cohen, who argues that most of the main current industry trends are either economic, or "beneath-the-hood improvements", not technical breakthroughs.
Bored with VFX?
In rebuttal, Seymour points to developments happening outside the movie industry, including Tandent Vision Science's extraordinary Lightbrush technology, and Adobe's remote editing system Adobe Anywhere.
More crucially, he responds to Cohen's observation that "recent movies haven't made me think, 'Wow, I've never seen that before'" with a list of 'how did they do that?' moments from the past six years.
Most of them – Inception, Avatar, the 'skinny Steve' shots from Captain America, and the like – are spot on.
It's the economy, stupid?
And yet, it's also worth reading the whole of Cohen's article – which seems to have been posted as much in sorrow as in anger in the wake of Digital Domain filing for bankruptcy.
In it, Cohen observes that former DD CEO John Textor's analysis that there's just not enough money in VFX any more has proved essentially accurate – and that the people who suffer from this are artists, not management.
That does leave a nasty taste in the mouth – and not one that recent movies, good though they are, can erase.
Read David Cohen's full article
Read Mike Seymour's full response
Tags: argument, boring, David Cohen, debate, FXGuide, Mike Seymour, opinion, Variety, vfx, visual effects