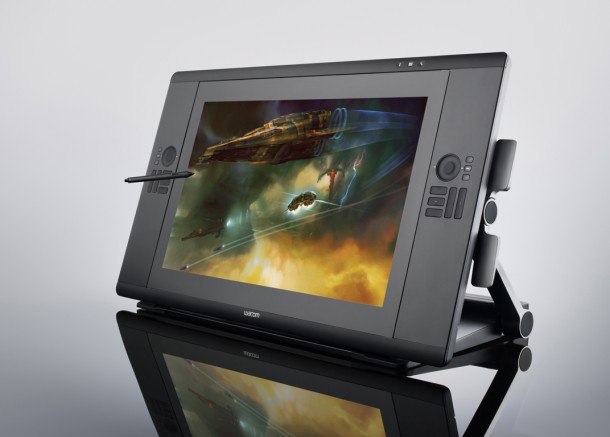 Despite its weight and its wallet-straining price, Wacom's biggest ever combined input device and display unit is a serious piece of kit. Fernando Caire took the 24-inch Cintiq 24HD for a spin – and was immediately smitten.
In a way, Wacom has always been there with me. I bought my first tablet, an Intuos2, during high school, and used it for several years before upgrading to my Intous3 in college. It was around the time I bought my first tablet that I decided I wanted to be a digital artist – and as I grew as an artist, so did the technology.
Over the past three decades, Wacom has provided some of the industry's most cutting-edge technology, but nothing was quite as ground-breaking as its Cintiq range. Bridging the gap between tablet and monitor, Cintiq pen displays – especially the 21UX – have been huge hits. Now Wacom seeks to push the technology even further with its latest, and largest, tablet: the 24-inch Cintiq 24HD. But at $2,599, can it justify its luxurious price?
Physical specifications and setup
I don't know what madman thought that a 60+ pound tablet would be a great idea, but they clearly don't live atop three flights of stairs like I do. That's right: the 24HD weighs in at a whopping 64 pounds, nearly triple the weight of the 21UX. But to be fair, half of that total comes from the stand, which acts as a counterweight and enables the tablet to be maneuvered easily via a swivel mounting. It's a pain to get home, but once you do, that ease of use makes all the difference. The side levers enable the screen to be positioned vertically or tilted backwards or forwards, while the base has an additional lever that enables the screen to be pulled towards you, ensuring a comfortable drawing position. You can also lock the screen in place, but only when the side bars are upright.
Set up is relatively painless (unless you don't lift with your legs). Most current display outputs are available in the back of the Cintiq's base: DVI-I, DisplayPort and, via an adaptor, VGA. My only, small, complaint is that the tablet needs to hook into the computer via a USB cable: with desks already so tangled, a wireless option would have been nice. Software installation is quick, and you will be ready to use the Cintiq in a matter of minutes.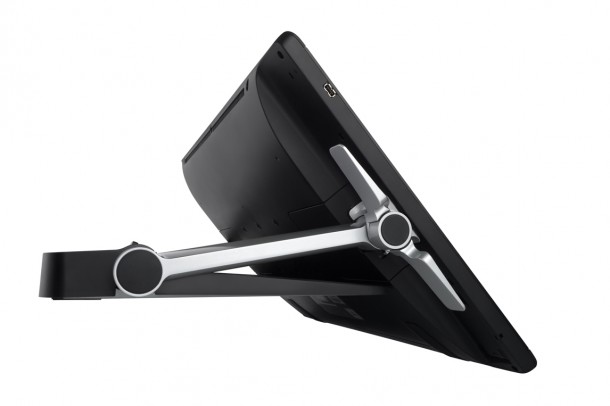 Controls and sensitivity
The large screen gives a lot of freedom for the arm. Even the largest Intuos tablets never felt so comfortable to use. The increase in viewable screen space from 21 to 24 inches makes a bigger difference than you would think, increasing the pixel count from 1,920,000 to 2,304,000 over the 21UX. It isn't perfect – even at 1,920 x 1,200 resolution, I wouldn't say the screen is crystal clear, possibly as a consequence of the anti-glare coating – but you honestly wouldn't notice the very slight blur unless you push your face right up against the screen. The 16:10 display aspect ratio is also a welcome improvement over the previous 4:3.
This behemoth also has a lot of power under the hood. Integrated on both sides are touch-sensitive scroll wheels, made popular by the Intuos4. Each has a set of three buttons that enable you to change its function quickly, so you get a total of six uses for the pair. You can increase/decrease your brush size, zoom in and out, or rotate your document. (The in-program rotate feature is especially important since, unlike previous Cintiqs, the display itself cannot be rotated.) There are also ten additional programmable buttons. Or, if reaching over to the buttons takes way too much effort, you can use the pen to bring up an on-screen wheel display showing your most commonly used shortcut keys and apply them that way. Speaking of the pen, strokes flow smoothly, and I experienced neither lag or accuracy problems. Basically, this thing paints like a dream.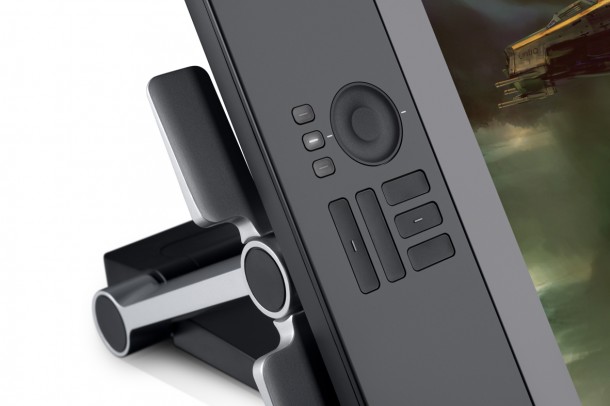 Wacom has gone above and beyond the call of duty to make sure that you will be as comfortable using the Cintiq as you would a pad of paper or a canvas. A set of useful buttons on the top of the screen gives access to your settings, your layout, and an on-screen keyboard. I don't know about anyone else, but I personally hate having to go and search of my tablet software to edit the button configuration and pressure sensitivity: here, one touch of a button and the tablet pulls up the configuration manager for you. The on-screen keyboard is useful, but I preferred just laying my real keyboard on the large base under the screen for easy access. One USB port is available on the side of the device to upload any documents you need to work on, so you don't have to reach over to your computer. I would say an additional USB port would be nice – but that would just be acting spoiled.
Overall verdict
Wacom has raised the bar on artistic technology time and time again, and the Cintiq 24HD is no exception. Put simply, it is the finest piece of artistic equipment available, far surpassing any other input device on the market. The only two downsides are that it will probably take up your entire desk – and that it will set you back $2,599. But I can tell you now that it is worth every single cent. The speed of my workflow increased dramatically due to its intuitive interface, meaning that it you are a professional artist, it is almost guaranteed to pay for itself. I can only wonder what Wacom plans to release next, but for now, the Cintiq 24HD is second to none.
Freelance artist Fernando Caire is a full-time employee of The Gnomon Workshop and CG Channel's Associate Editor. You can contact him at fernando [at] cgchannel [dot] com
Read full specifications for the Cintiq 24HD on Wacom's website