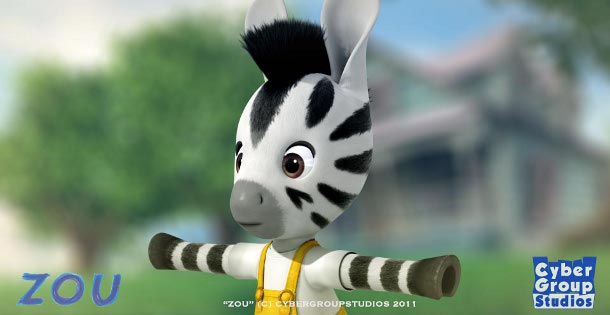 fmx 2011: The Bakery has announced the first client wins for Bakery Relight, its all-in-one relighting and shading package, released last month.
The studios in question, France's Cyber Group Studios and Dwarf Labs, and the USA's Hawaii Animation Studios, are all mid-size facilities, although working on sizeable projects: in the case of Cyber Group Studios, the 52-part animated series Zou (pictured above). The company is dividing the work between France and China.
Hawaii Animation, a 40-strong company that occupies the facility once used by Square on Final Fantasy: The Spirits Within, has just completed work on Discovery Channel documentary Reign of the Dinosaurs.
We caught up with Bakery co-founder Erwan Maigret in the run-up to the show to discuss his vision for Relight, and how the software is currently being used in production. Look out for the interview online later in the week.
PRESS RELEASE (Excerpts)
The Bakery, the 3D computer graphics software company, will be showcasing Bakery Relight™, their game-changing animation and visual effects lighting and rendering solution at FMX 2011 from 3 – 6 May, at the Haus der Wirtschaft in Stuttgart, Germany. The software, which launched at NAB 2011 in Las Vegas in April has quickly garnered plaudits and strong support from early adoptors, and is already making its mark at production facilities internationally.
Designed for the high-end feature film, television and industrial, automotive and architectural design industries, Bakery Relight is the first interactive, all-in-one lighting, shading and rendering solution. With potent new artistic tools and accelerated and streamlined workflows, Bakery Relight expands creativity and increases productivity and turnaround times by significant orders of magnitude.
Olivier Lelardoux, Animation Vice-President at Paris-based Cyber Group Studios said, "ZOU is our new full CGI pre-school show in production (52×11′). The series is a pan-European deal with Disney due for release in 2011/2012, and is based on the books of Michel Gay ("L'ECOLE DES LOISIRS" édition). For this production we were looking for a new render solution to achieve a "direct to DVD" quality and adapted to our short series schedule and budget. After reviewing many software products, there is no doubt that Bakery Relight is the best choice for us. In the past, using render effects like Global Illumination, complex reflections or volume lights was impossible for the series industry, but today with Relight, it's a reality. With the full support of the Bakery's team, Relight is fully integrated into our studio's pipeline in Paris and Suzhou (China). With the power of Relight and the talent of The Bakery, Cyber Group Studios is now ready to deliver a new quality standard of TV series."
Olivier Pinol of French-based Dwarf Labs said, "We were lucky enough to get our hands on Alpha and Beta versions of Bakery Relight early on. So we have seen the ongoing development of what is now a really great product. We have 10 licenses here at Dwarf Labs, and have fully integrated Relight into our software pipeline. We're currently using Relight on a project called, "Maëlynn & the Puzzle Gates", which we will be showcasing at MIFA in June. What's key for us is Relight's intuitive user interface and power. Speed and reliability are essential for us when working on a project, and Bakery Relight delivers every time."
Calin Casian, CG Supervisor at Hawaii Animation Studios in Honolulu, Hawaii said, "Bakery Relight allowed us to complete work on our most recent project ('Reign of the Dinosaurs' for the Discovery Channel) on schedule and with a much improved look. Compared to the previous renderer we employed, Relight enabled us to reduce computation times drastically, improving the overall quality of our work and enabling us to iterate more quickly with the client. When your back is against the wall in terms of tight production deadlines, the speed, incredibly realistic look, and ease of use of Relight is invaluable."
Read more about Bakery Relight on The Bakery website
Tags: Bakery Relight, clients, Cyber Group Studios, Dwarf-Labs, Hawaii Animation Studios, relighting, shading, The Bakery, Zou