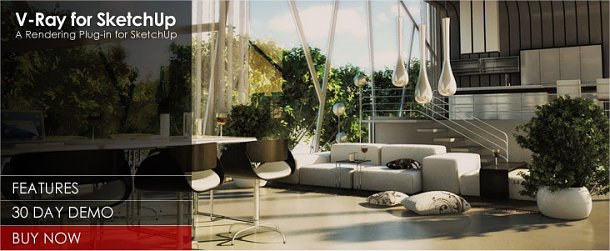 Chaos Group has acquired ASGVIS, developer of the licensed editions of its V-Ray rendering software for SketchUp and Rhino.
According to the official announcement, there will be no staffing changes at ASGVIS, which now becomes Chaos Group's US office, so it seems unlikely that users will see many changes in product support, at least in the short term.
However, the acquisition raises the size of Chaos Group's product portfolio by 50% at a stroke, and can only strengthen V-Ray's position as an industry-standard tool.
PRESS RELEASE (Excerpts)
Chaos Group has acquired Baltimore-based software developer and visualization firm, ASGVIS, LLC. The acquisition will consolidate V-Ray for Rhino and V-Ray for SketchUp development within the Chaos Group brand, and confirms establishment of a new Chaos Group company in the United States that will enhance services and support to customers in North America.
A working relationship with the two companies began in 2005 when ASGVIS adapted Chaos Group's flagship rendering plug-in, V-Ray, to work with the modeling software applications Rhinoceros and SketchUp. In addition to developing these two products, ASGVIS resold Chaos Group's V-Ray for Autodesk 3ds Max and V-Ray for Maya. Joining the two development teams under Chaos Group will ensure consistency among the V-Ray products.
"We are extremely excited by this merger," said Peter Mitev, CEO of the Chaos Group. "We have worked with ASGVIS to extend the V-Ray platform into areas of business that our other V-Ray products did not cover, and having them join the Chaos Group only serves to make the V-Ray brand even stronger. The USA has always been a key market for V-Ray, and having a dedicated office to service our customers will allow us to provide an even higher level of service and support."
ASGVIS will officially be renamed Chaos Group USA. Peter Mitev will provide overall guidance for the new company, but there are no planned changes to the structure or employees as of this announcement. Chaos Group will continue to operate ASGVIS "as is," and will gradually phase-in changes to the process of ordering and support. Details on these general changes will be communicated by the Chaos Group in the coming months.
"Chaos Group is a true pioneer in the CG industry, and this acquisition is a monumental step to unify the V-Ray brand," echoed Corey Rubadue, founder of ASGVIS, and now the Director of Chaos Group USA. "It not only acknowledges the importance of V-Ray in the CAD market, but also firmly places the plug-ins for Rhino and SketchUp in the official V-Ray development pipeline."
Visit the old ASGVIS website (now rebranded)
Tags: acquisition, ASGVIS, buyout, Chaos Group, Rhino, SketchUp, V-Ray