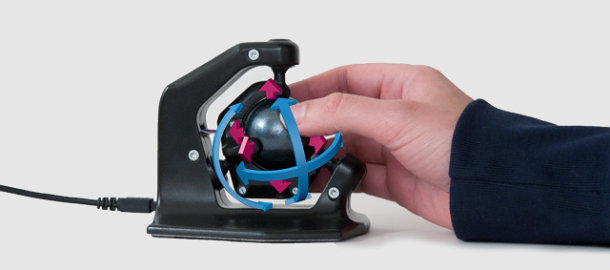 Earlier this week, we reported on a promising new 3D mouse in development from German start-up Axsotic.
Unlike existing input devices, the 3D-Spheric-Mouse uses a control ball to manipulate a digital model while the artist works on it with their free hand.
At the time, few details were available, so we promised to post back if we heard from the developers. We've since spoken to Axsotic's Valentin Heun, so here are the edited highlights of that interview.
CG Channel: How did the 3D-Spheric-Mouse come about?

Valentin Heun: It's based on work that was originally done at Bauhaus-Universität Weimar. Axsotic co-founder Jan Hochstrate was one of the inventors of the concept; [fellow co-founders] Johannes Hafner and I were students at the university.
CGC: How long has it been in development?
VH: For six years there were major problems with the idea that made it impossible to finish a product. We founded Axsotic and managed to solve the problems in the last year.
One of the biggest challenges has been to create a suspension system that lets your hand grab the ball and rotate it freely in all three axes. This is one of the biggest difference to a trackball: a trackball can not be held in your fingers; it's a two-dimensional interface.
[A key] part of the concept is how you can hold the ball and work without any disturbance. Every little thing, from the sensors to the spring bodies, is optimised in such a way that you have maximum freedom in rotating it.
CGC: How does it differ from existing 3D controllers, such as those from 3Dconnexion?
VH: In a 3Dconnexion mouse, translation and rotation are combined and rotations are done by acceleration (by tilting the puck). It is nice for flying around [a scene], but it is very hard to work precisely with it.
If you look at a 3D artist's workflow, rotations are the most commonly performed task. The 3D-Spheric-Mouse gives you precise, direct control of rotation in all three axes. It is free of input failure because you use your finger for navigation, and you can separate rotation and translation [very precisely].
I could go on, but you actually have to hold it in your hand to understand why this is such a big change.
CGC: Do you have working artists amongst your beta testers?

VH: Our testers have included professionals in Berlin, Munich and Frankfurt. We also gave more than 50 short presentations to Maxon customers on the Maxon roadshow, and to the guys from Maxon themselves. After a minute, everyone knew how to use [the mouse].
CGC: Which 3D applications will it support on release?

VH: Maya, 3ds Max, Cinema 4D and BodyPaint 3D. We will develop more drivers, but also will provide an open SDK so any company can create its own integration.
CGC: And when will it be released?
VH: We will produce a small production run of 500 in January on a high price point [aimed at corporate users]. I'll let you know the mass-market pricing as soon as I can.
Tags: 3D mouse, 3D-Spheric-Mouse, Axsotic, interview, Valentin Heun