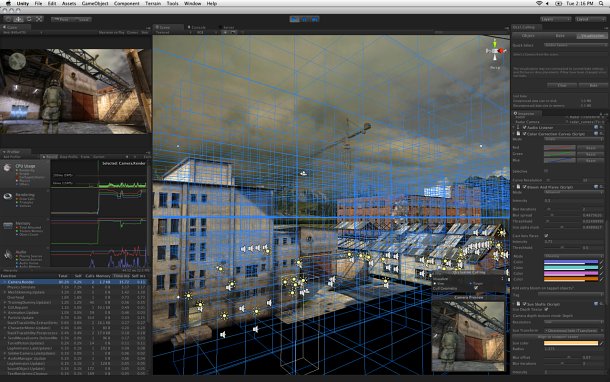 Occlusion culling in action: just one of the new advanced features in Unity 3.
Unity Technologies has released version 3 of its Unity games development platform. The release promises "dozens of major new features, 100+ additional enhancements and up to 10x performance" – and for once, that doesn't feel like marketing hype.
Advanced features in the new release include an improved unified editor, enabling users to deploy content to any of the nine supported games platforms from a single project file; built-in lightmapping using Illuminate Labs' Beast Engine; support for deferred rendering and occlusion culling; and a set of pre-built post filters.
"With Unity 3, we're demonstrating that we can move faster than any other middleware company, that we're serious about the long term and that high technology made simple is a transformational force," commented company CEO David Helgason. "This audacious dream of building a truly unified platform for game development is coming to fruition."
On present evidence, you wouldn't want to bet against him.
PRESS RELEASE (Excerpts):
Unity Technologies, provider of the Unity development platform for highly interactive 3D content on the web, iPhone, iPad, PC, Mac, Android, Wii, Xbox 360 and PlayStation 3, announced that Unity 3 is available today at http://unity3d.com/unity
"This audacious dream of building a truly unified platform for game development is coming to fruition," said David Helgason, CEO of Unity Technologies. "With tens of thousands of teams of every shape and size using Unity, across every genre and all major platforms, across all parts of the game industry as well as most other industries, economies of collaboration and sharing and scale of stunning dimensions are being realized."
There are now more than 200,000 registered users of Unity, first introduced more than five years ago. Unity is the #1 game development platform on the market and in education, by far the leading game technology on the iPhone and iPad and the fastest growing game development platform in terms of developer mindshare. At the same time, tens of thousands of developers are leveraging Unity's innovations to create innovations of their own — new unique control interfaces, real-time sports broadcasting, new ways of interacting with social networks, new ways to advertise products, augmented reality (AR) games, integrated devices and many more.
Among the dozens of new features in Unity 3 are:
Unified Editor – Deploy to any supported platform from one project in one editor
Beast Lightmapping – The industry's strongest lightmapper is now included in Unity
Deferred Rendering – AAA class rendering available on web, consoles and standalone
Occlusion Culling – Completely new Umbra-powered PVS solution
Source-Level Debugger – Single step through code, variable inspection and other development painkillers
Audio Filters – Perfect FMOD-powered ambiance effects with integrated editing
Lens Effects – AAA post filters ready for use in games or to be studied in source form
Pricing and Availability
For version 3, Unity Technologies has kept Unity, its entry level product, free for commercial use. Its premier product, Unity Pro, will retain its current price of $1500 per developer seat. Current Unity Pro owners will be able to upgrade to version 3.x for $750.
Also seeing significant general and platform-specific improvements, Unity iPhone and Unity iPhone Pro will be available for pre-order immediately at similar discounts: $300 per seat for new licensees of Unity iPhone ($100 per seat for 1.x upgrades) and $1200 per seat for new licensees of Unity iPhone Pro ($500 per seat for 1.x upgrades).
Click here to visit Unity Technologies online
Tags: Beast, deferred rendering, occlusion, Unity, Unity 3