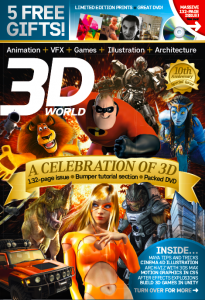 Our friends over at 3D World Magazine are celebrating their 10th Anniversary. To commemorate this, they are releasing a special 132 page birthday issue on 5th May 2010 along with free software worth more than £1100 ($1680 USD).
Inside, the very special birthday issue of 3D World is introduced by Industrial Light & Magic's Visual Effects guru, John Knoll. Best known for his work on the Star Wars prequels, and the recent 3D blockbuster Avatar, the Academy-award winner exclusively discusses the major changes in 3D design over the latest decade.
Further highlights include a retrospective of the last decade in CG, describing a field which changes and evolves on an almost daily basis. Elsewhere, Volker Engel, VFX supervisor on Independence Day and 2012, reminisces about his earliest inspiration: the work of effects pioneer Douglas Trumbull.
With more than £1100 worth of assets and video packed onto the DVD, 3D World allows readers to get to grips with the complete Unity games development platform – used by leading companies including Disney and Warner Bros.
Issue 130 of 3D World goes on sale Wednesday, 5th May. More information over at www.3dworldmag.com.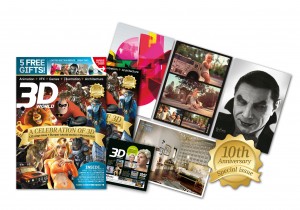 Related Links
3D World Magazine