The Spring Term for Gnomon School of Visual Effects is just round the corner and many online courses are available for registration. Gnomon's online courses gives aspiring artists the opportunity to get hands-on training from anywhere in the world.
Featured Courses: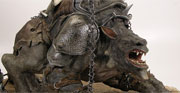 Digital Sculpting – with Instructor Scott Spencer, Gentle Giant Studios
Introduction to Maya – with Instructor Tefft Smith, Visual Effects Supervisor of Gnomon Studios
Polygon Modeling 1 – with Instructor Kevin Hudson, Modeling Supervisor of Watchmen
Learn Maya's polygon modeling tools and sub-division surface modeling.
Texture Mapping 1 – with Instructor Eric Miller, Master Texture Artist
Essential for realism, learn texture mapping techniques.
Lighting and Rendering 1 – with Instructor Jeremy Engleman, Surfacer at DreamWorks
Learn the art and science of 3D lighting and rendering.
Related Links
Gnomon School of Visual Effects
Gnomon Online Training
Tags: Gnomon