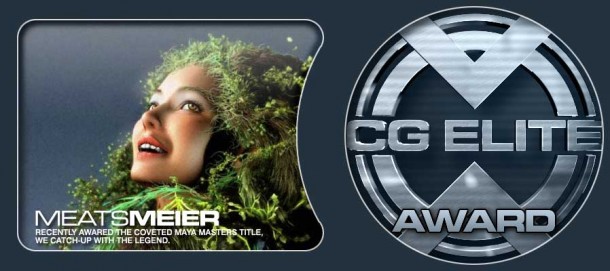 His art certainly will leave an impression on anyone who sees it. You may enjoy it, you may even be upset with it, but you will not forget it. To express an emotion, an expression of a feeling or a state of mind, Meats Meier truly understands the purpose of art. This is why we award him with our CG Elite award, given to the outstanding digital artist that he truly is.
We had the chance to interview Meats Meier a few months ago (click here to read the original story). A lot has happened for him since. First, he became a Maya Masters and then, he was just hired by The Orphanage (read our latest story on the work they did on Jeepers Creepers 2).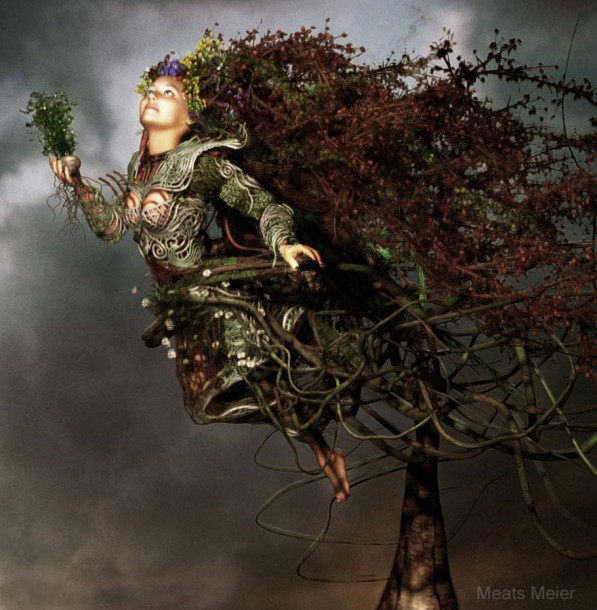 Mother Nature Summer (Click image above to see larger version)
CGC: Tell us how you learned you were given the prestigious "Maya Masters" title?
Meats: I was minding my own business when one day I received an email from Paula Suitor, the head of marketing at Alias informing me that I was nominated for a Maya Masters. She cautioned me to not get too excited, as it was just a nomination. About a month later, I learned that luck was with me and I got the award. I later learned that it all came about because Duncan Brinsmead (the creator of paint effects) had seen my art on the web and forwarded it on to the right people. I was honored to be able to thank him in person at Siggraph.
CGC: What impact did it have on your career?
Meats: It is still really fresh, but at this point it has helped me to land a nice position as a technical director at the Orphanage in San Francisco and has given me a lot of extra recognition having my own bio page on the Alias website. I feel a little strange being grouped into a category that includes people like Jason Schleifer and Chris Landreth. People at the office like to give me a hard time and say "why don't you have the Maya Master figure it out" – it's all in good fun, but it is making me study that much harder…
CGC: What were your impressions on this year's siggraph?
Meats: My focus was mainly on networking and of course the parties (including the CG Channel party, which was a great time). Both turned out to be very successful for me. I even got to meet and hang out with Steven Stahlberg for a day which was very exciting for me; he is a great guy with many interesting ideas.
CGC: What do people tell/ask you the most when you tell them you are Meats Meier?
Meats: First of all, they say that they envisioned me as a huge, angry German guy, and are surprised by the reality that I am a skinny mellow guy from Utah. I am also asked a lot about my working processes and specifically how I go about doing my wire models and such. I am personally surprised by how many people have been exposed to my art and animations. I feel very lucky to be born in a time that an artist with no education or money can market his work all around the globe very easily using the internet. I know that when I finish a new series, thousands of people will have their eyes (and their opinions) on it. I feel good that I have an audience – love me or hate me.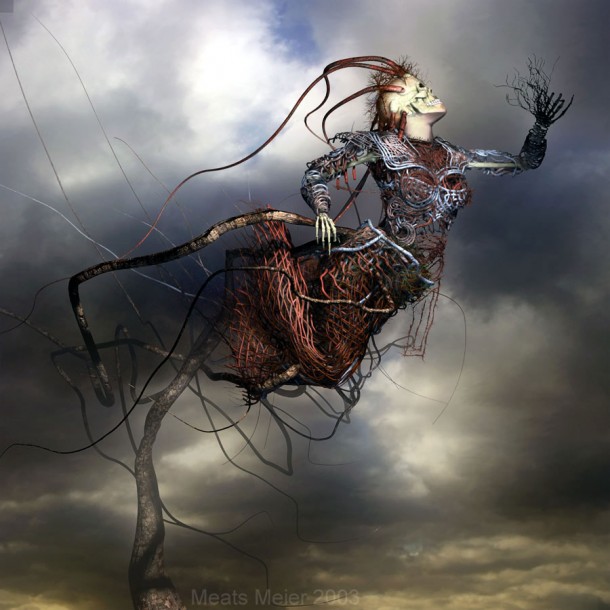 Mother Nature Winter (Click image above to see larger version)
CGC: What is the advice you give people the most often career-wise?
Meats: The advice I always give is – study art first and foremost. The technical part is secondary. You have to know the rules in order to successfully break them. Look into composition, color, and try to be original in both your subject matter and technique, which admittedly is easier said than done. Another thing I have to tell them is that it takes a lot of hard work to get a job in the feature film industry- there is a lot of competition from many talented, dedicated people, but with a lot of sweat is very doable.
CGC: Surely, you received many job offers from some of the top facilities in the world, why "The Orphanage"?
Meats: I feel that the lucky lightning struck me with getting some good exposure during a Siggraph year that studios where looking hard for talent. I had the good fortune of having a few great offers to choose from, but after touring the Orphanage's studio, I felt very at home there right away. The Orphanage seems to go out of their way to fill their offices with the best of the best, and having talented people to learn and grow from was one of my top priorities. After having been there for my first few weeks there, I really know now that I made the right choice.
Related Links:
Original Interview with Meats Meier on CG Channel
Tags: Meats Meier