"Aunt Luisa"
Studio's First Original Animated Short, a Warm-up for Feature-Length Films
Blur Studio has produced a computer animated short film, entitled Aunt Luisa, the latest step in its plan to produce animated feature films. Written by Blur Studio creative director Tim Miller and directed by Miller and Paul Taylor, the 3 ½-minute film was one of nine films short-listed for Academy Award consideration. The film will also screen in film festivals later this year.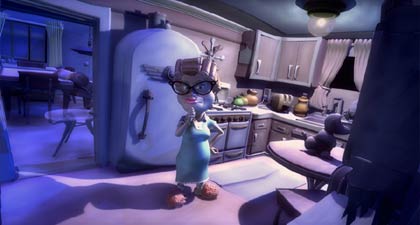 The film centers on an aging widow who, through a scotch-induced haze, has become convinced that bandleader Guy Lombardo and his Royal Canadians have taken up residence in her house. She hears them playing, but she's never actually seen them as the performance is always happening in another room. Miller, who based the Aunt Luisa character on one of his own aging relatives, said he views the wry film as a happy story. "Aunt Luisa's life is dull and lonely until this magical thing happens," he explained. "A little excitement enters her life and she's better for it."
Blur Studio, which has won many awards for the animation it has created for feature films, theme park attractions, games cinematics and other media, produced Aunt Luisa entirely in-house. The studio's team of artists and animators handled concept design, storyboarding and every phase of the animation process. Additionally, it oversaw music and sound design production and directed the voice over talent.
Blur Studio views Aunt Luisa, as a warm-up for producing animated features, something it hopes to embark on within the next year. "Over the last few years, we have been carefully assembling resources and building our talent pool for the time when we'll get our shot to do an animated feature," said Miller. "Aunt Luisa was a step forward in that process and allowed us to develop our own content. It was a great experience for our artists and the film's gotten the studio a lot of attention." Blur Studio is currently planning the production of additional short films.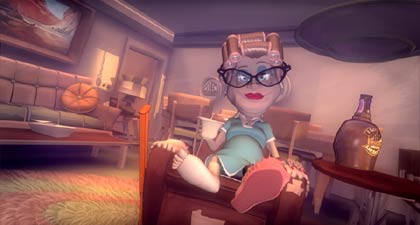 Aunt Luisa was written by Tim Miller and directed by Tim Miller and Paul Taylor. Additional credits go to Sherry Wallace, producer; Chuck Wojtkiewicz, concept design; Marlon Nowe and Bryan Hillestad, animators; Asier Hernaez, Sam Gebhardt and Darren Ross, modelers; Tom Dillon and Dan Rice, scene assembly and lighting; Paul Hormis, cloth simulation; Norn Kittiaksorn, title design and end credits; Guy Lombardo and His Royal Canadian Orchestra, music; Darren Norris, voiceover; Gary Zacato and Shoreline, sound design and recording; Title House Digital, digital film recording. Special thanks to Yas Takata.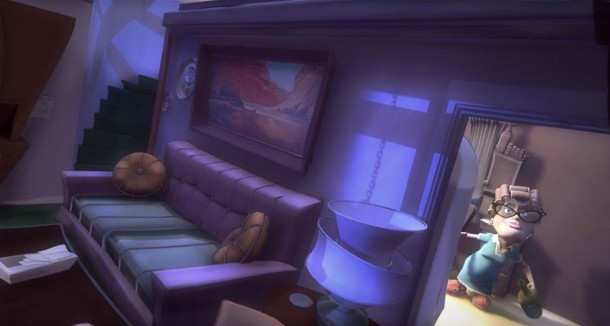 Related Links:
Tags: 3d, animated shorts, Aunt Luisa, Blur Studios