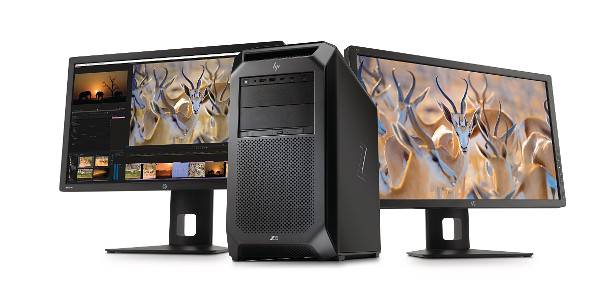 HP has unveiled what it describes as "the most powerful workstation on the planet", the HP Z8 G4 – the new top-of-the-range model in its Z Workstations line-up of desktop machines for VFX and video editing work.
The Z8 G8 is due to ship later this year, alongside new sister models the Z6 G4 and Z4 G4, making this HP's first major overhaul of the Z Workstations for three years.
Up to 56 CPU cores, three Quadro P6000 GPUs, 3TB RAM and 48TB internal storage
Although that claim to be the world's most powerful off-the-shelf workstation comes with a disclaimer that it's based on models available on 14 June 2017, there's no doubt that the new Z8 is both powerful and scalable.
It's a dual-processor machine, based on Intel's latest Xeon Scalable Platform CPUs, which – if you choose the top-of-the-range Platinum 8180s – means a total of 56 CPU cores.
(If that's beyond your means, there are 20 other options available, starting at the low-end Bronze 3104s, which give a reasonable, if less spectacular, total of 12 cores.)
There are also a whopping 24 DIMM slots, which gives you up to 3TB of DDR4-2666 ECC SDRAM memory.
The spec is GPU-agnostic – you can have almost any Nvidia Quadro Pascal or AMD Radeon Pro WX-Series card – and you get the expected range of SAS and SSD drives, for up to 48TB of internal storage.
Connectivity is good: dual GbE ethernet, ten USB 3.1 and two USB-C ports, plus the expected PS/2, audio, WiFi and Bluetooth options.
The Z8 is also highly expandable, with a total of nine PCIe slots: four of them PCIe x16.
Even the optional dual 10GbE ethernet module – co-developed with Intel – plugs directly into the motherboard, leaving the PCIe slots free for adding GPUs or dedicated video- or data-capture cards.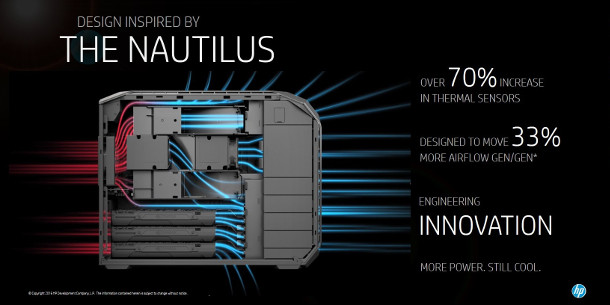 New 'Nautilus-inspired' chassis design promotes internal air cooling
As ever, power comes at a price: both literal – even the lowest-end configuration costs $2,439 – and in terms of energy consumption: available PSUs range from 1125W all the way up to 1700W.
That necessitates some series internal cooling, with HP raising the number of air intakes from four to eight, and introducing a complete new chassis design designed to promote internal airflow.
"One of the things we've seen others do … is to bring in air without controlling flow very well," said head of product management Josh Peterson. "[Some are] even preheating air [by running it over the CPU]"
Externally, the Z8 also sports a "more modern, more inspirational" chassis design with a modular front I/O panel, separate access to the PSU and other components, and built-in carrying handles.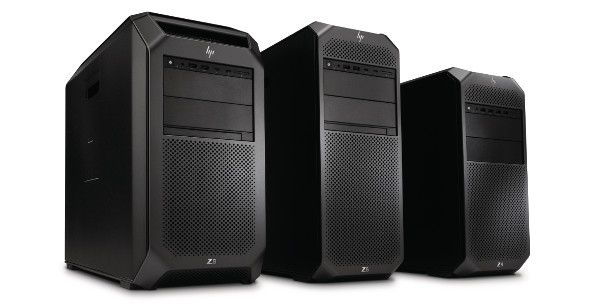 The Z6 G4 and Z4 G4: less extremely specified, but still capable workstations
The Z8's sister models, the Z6 and Z4 workstations, also sport the new chassis design.
The Z6 comes in both single and dual-CPU configurations, and offers the same range of chips as the Z8, for a still-pretty-hefty maximum of 48 CPU cores.
It's a similar story with GPUs – the same range of cards as the Z8, but the maximum standard configuration is two Quadro P5000s, not three Quadro P6000s.
The maximum RAM and internal storage are around half that of the Z8: 12 DIMM slots, for up to 384GB memory, and up to 22TB of internal SAS or SSD storage.
Connectivity is pretty much identical, though, and you get eight PCIe slots: only two of them x16 this time, but also introducing two mini M.2 slots.
The Z4 is purely a single-CPU machine, with a more limited range of processors, and up to 18 cores.
It doesn't come with the absolute top-of-the-range Nvidia or AMD GPUs – the maximum standard configuration is two Quadro P4000s – and its eight DIMM slots give a maximum of 256GB RAM.
However you still get the same connectivity options as the Z6 and Z8, up to 22TB of internal storage, and seven PCIe slots: again including two x16 slots and two M.2 slots.
Pricing and availability
The Z8 G4 and Z6 G4 workstations are due to ship in October; the Z4 G4 follows in November. Pricing is similar to HP's previous-gen models, starting at $2,439 for the Z8, $1,919 for the Z6, and $1,239 for the Z4.
Updated: note that the starting prices are for the lowest configurations available for each model. The maximum configurations will cost significantly more, although HP hasn't posted exact figures yet.

See an overview of the new Z8 G4, Z6 G4 and Z4 G4 workstations on HP's website
Read the full system specifications for the Z8 G4 workstation
Tags: 10GbE, air cooling, cg, chassis design, connectivity, CPU, DIMM, Ethernet, GPU, graphics, HP, PCIe, price, Quadro, Radeon Pro, RAM, SAS, specifications, SSD, storage, vfx, video editing, workstation, world's most powerful desktop workstation, Xeon, Xeon Scalable Platform, Z Workstations, Z4, Z4 G4, Z6, Z6 G4, Z8, Z8 G4