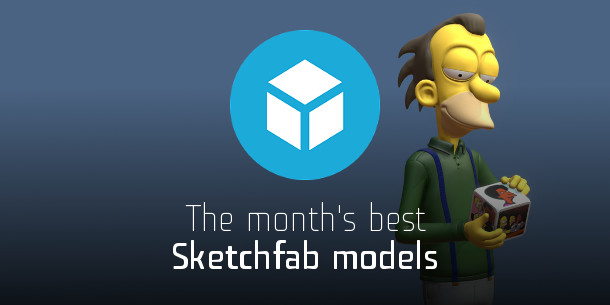 Sketchfab provides a simple way for anyone to publish and share their 3D models online. To celebrate the best in real-time 3D art, we asked the Sketchfab team to pick the 10 greatest models on the site this month.
To interact with a model in 3D, click the large Play icon in the centre of the frame.
To find out more about a model, click the small Sketchfab logo on the bottom left of the frame.
Lenny Leonard by DrZenith
79.3k faces
Fan art of The Simpsons.
Someone by Methamar
16.2k faces
Based on a concept by Horminum.
Female Bust by Dylan Brady
229.7k faces
Ant by Shane Beucler
2.8k faces
Based on a concept by Thiago Almeida.
Beetlejuice – Please Give It A by Pal 3d
708.5k faces
Intruders (Revisited) by Rafael Scopel
141.8k faces, downloadable
See wireframes of the scene in Rafael's ArtStation gallery.
We Are Killing Ourselves by Henryk Speier
31.8k faces, animated
Bradford and the World Tourer by Gangstar New Orleans
8.6k faces
An asset from Gameloft's mobile title Gangstar New Orleans.
Deserted Elementary School Hallway by Aurélien Martel
204.9k faces
Vespa Casual Character (Pose 01) by Lim Young Jin
13.0k faces

Want to vote for a model of the month? Just Like your favourites on the Sketchfab site, or upload your own!
Tags: April 2017, best 3D models, best real-time models, models of the month, real time, Sketchfab