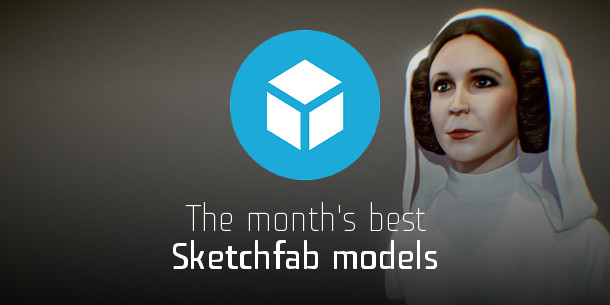 Sketchfab provides a simple way for anyone to publish and share their 3D models online. To celebrate the best in real-time 3D art, we asked the Sketchfab team to pick the 10 greatest models on the site this month.
To interact with a model in 3D, click the large Play icon in the centre of the frame.
To find out more about a model, click the small Sketchfab logo on the bottom left of the frame.
Princess Leia Organa by Adam Beamish
937.1k faces
A tribute to Carrie Fisher, who died just before this selection of models was compiled.
Riscopopoulos Boat by Agathe Girard
67.5k faces
Watch an animation based on the scene on Agathe's ArtStation profile.
Graveyard Diorama by Lucy Burbidge
69.1k faces
Created as part of Sketchfab's Artist in Residence program.
Groot by Eduard Cortés
37.9k faces
Guardians of the Galaxy fan art.
Dragon Bust by Tosh Hsu
87.6k faces
See more renders and photos of the 3D print on Tosh's ArtStation gallery.
Hellion by worldatarmsofficial
48.0k faces
An asset from Gameloft's free-to-play strategy title.
T-REX Tyrannosaurus (Final) by JC
9.3k faces
Graograman (FUR Study) by Andy Brüning
82.3k faces
See a step-by-step walkthrough of the creation of the model on Andy's ArtStation gallery.
The Divine Comedy by Kasper Vendelbo
11.7k faces
See the untextured model and texture maps on Kasper's ArtStation gallery.
Ana – From my imagination by Ivan Galan
350.2k faces
See more renders on Ivan's ArtStation gallery.

Want to vote for a model of the month? Just Like your favourites on the Sketchfab site, or upload your own!
Tags: best 3D models, best real-time models, Carrie Fisher, December 2016, models of the month, Princess Leia, real time, Sketchfab