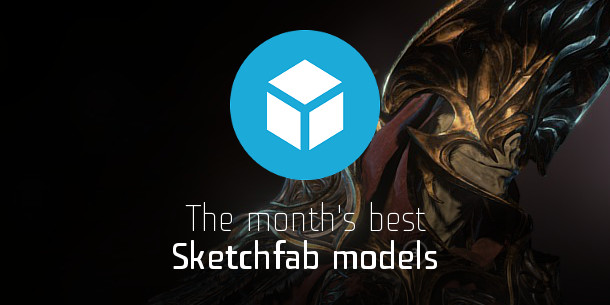 Sketchfab provides a simple way for anyone to publish and share their 3D models online. To celebrate the best in real-time 3D art, we asked the Sketchfab team to pick the 10 greatest models on the site this month.
To interact with a model in 3D, click the large Play icon in the centre of the frame.
To find out more about a model, click the small Sketchfab logo on the bottom left of the frame.
The Crypt Keeper – Statue for Revival by Cliff Schonewill
85.0k faces
A sculpt created for Revival, IllFonic's cancelled dark fantasy MMORPG.
Mask by Julien Kaspar
21.5k faces
Swashbuckler Color by Simon Grell
209.9k faces
Buster Drone by Alexander Drews
16.8k faces
Undersight Sub-Assault class by Rayco Haex
22.3k faces
MH6 Little Bird by dafunk
31.4k faces
Emperor Palpatine by Adam Beamish
529.8k faces
Sci-Fi Helmet by EugeneDDR
3.4k faces
Taksim Tunel by Gürkan Gürbüz
209.0k faces
Mass Effect FanArt by Razzle Bell
23.5k faces
Fan art of BioWare's Mass Effect games. Suit design based on a concept by Heo Ilhaeng.

Want to vote for a model of the month? Just Like your favourites on the Sketchfab site, or upload your own!
Tags: best 3D models, best real-time models, Dishonored, fan art, models of the month, real time, September 2016, Sketchfab