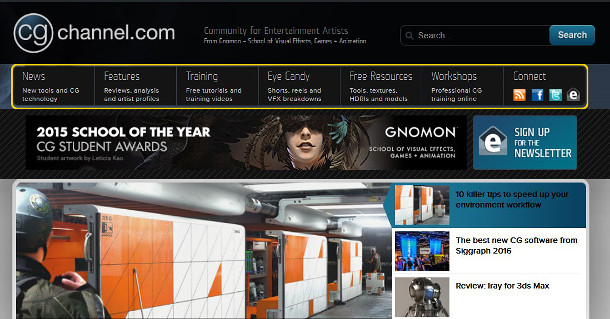 As eagle-eyed readers may have spotted, we've done some maintenance on the site over the weekend.
Most of it is behind-the-scenes stuff, but we have reorganised the menus at the top of our homepage to news to make it easier to find content.
If you visit the main page, you should now see the following options:

News
Daily News: Our regular daily coverage of new CG software and hardware technologies.
Event Coverage: Reports from key industry shows like Siggraph, NAB, IBC and FMX.
Also includes products announced at the shows, so you will see some overlap with Daily News.
Features
Product Focus: Hardware and software reviews, plus more in-depth stories on new technologies.
Production Coverage: Articles on the making of movies, games and short-form projects.
CG Elite: Interviews with leading CG artists.
Training
Free Tutorials: Tips and tutorials hosted on the site itself.
Training Videos: More in-depth video training from our sister site The Gnomon Workshop.
Eye Candy
CG Theatre: Eye candy on the site itself – mainly software showreels.
On Facebook: We post links to VFX breakdowns and CG shorts on our Facebook feed. Updated daily.
Free Resources
Download free assets like models, textures and HDRIs, and read news of new free tools.
Workshops
Visit The Gnomon Workshop for over 1,000 hours of online video training from leading CG artists.

Hopefully, everything else on the site should be working as normal, but if you do spot any broken links or missing images, drop us a line at news@cgchannel.com so we can fix them.
Tags: CG Channel, new menus, new navigation, site updates