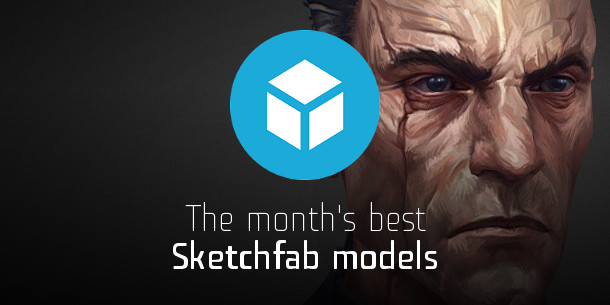 Sketchfab provides a simple way for anyone to publish and share their 3D models online. To celebrate the best in real-time 3D art, we asked the Sketchfab team to pick the 10 greatest models uploaded to the site this month.
To interact with a model in 3D, click the large Play icon in the centre of the frame.
To find out more about a model, click the small Sketchfab logo on the bottom left of the frame.
Dishonored – Assassin Daud fan art by Miki Bencz
2.4k faces
Based on Dishonored concept art by Cedric Peyraverney. See making-of images in Miki's ArtStation gallery.
Seymour Stone Well by Dzmitry Dorin
25.5k faces
Based on a concept by Whihoon Lee. See more images in Dzmitry's ArtStation gallery.
Twin Orc Cleavers by Zane Sturm
56.5k faces
Archer by Dmitry Grebenkov
9.6k faces
The Probe – Plastics (without Sensor) by MACHINƎ
30.5k faces
DD23-5 Robot Sentinel by Diorama_Digital
43.1k faces
Cybergirl01 by thonygm
76.4k faces
KV-2 heavy tank 1941 by Enver Dzekoev
583.4k faces
Spaceship by Dom Clubb
2.5k faces
Balinese Tiltbrush Mask V2 by Rein Bijlsma
1.3M faces

Want to vote for a model of the month? Just Like your favourites on the Sketchfab site, or upload your own!
Tags: August 2016, best 3D models, best real-time models, Dishonored, fan art, models of the month, real time, Sketchfab