Autodesk has unveiled Maya LT 2016 Extension 3, the latest subscriber-only update to its cut-down version of Maya aimed at indie game artists, revamping the software's modelling, UV and rigging toolsets.
The update, announced at GDC 2016, includes some interesting new features, including an automated Quick Rig tool, and a new system for handling blendshapes.
New automated rigging system, more roll bones per limb
Arguably the biggest changes in Extension 3 are to the software's rigging toolset, which now includes a new Quick Rig tool (above) based around Autodesk's HumanIK solver.
The tool, intended to enable less technically minded artists to create full-body rigs usable in-game "with a little bit of tweaking", provides an automated one-click workflow for rigging and skinning bipedal characters.
There is also a wizard-driven 'Step-by-Step' option which enables users to adjust the rig by manually placing markers within the geometry of the character.
In addition, HumanIK now supports up to five roll bones per limb to distribute rotation more evenly, preventing 'candy wrapper' artefacts during animation.
New blendshape system
Facial animation also gets an overhaul, in the form of the new shape authoring toolset and shape editor (above), described as a "far more visual and powerful" replacement for the old Blend Shape Editor.
The new editor provides a single point within the software at which to sculpt, edit, weight and set keyframes for blendshapes, including the option to group, nest or combine individual shapes.
The toolset is also intended for sculpting corrective deformations to resolve artefacts generated during full-body animation, although suprisingly, Autodesk hasn't implemented the Delta Mush deformer added in Maya 2016.
Reducing the pain of symmetrical modelling and UV work
There are also a number of other changes to the software's modelling and UV toolsets, notably those related to mirroring and symmetry – described by Autodesk as "a bit of a pain point in Maya LT".
Symmetry operations now behave more consistently while creating or retopologising models, while the UV toolset gets a self-descriptive – and rather intuitive-looking – brush-based Symmetrize UV Tool.
The UV Unfold function also gets multi-object suport, plus improved layout and auto-seam features, all of which can be seen in more detail in the video above.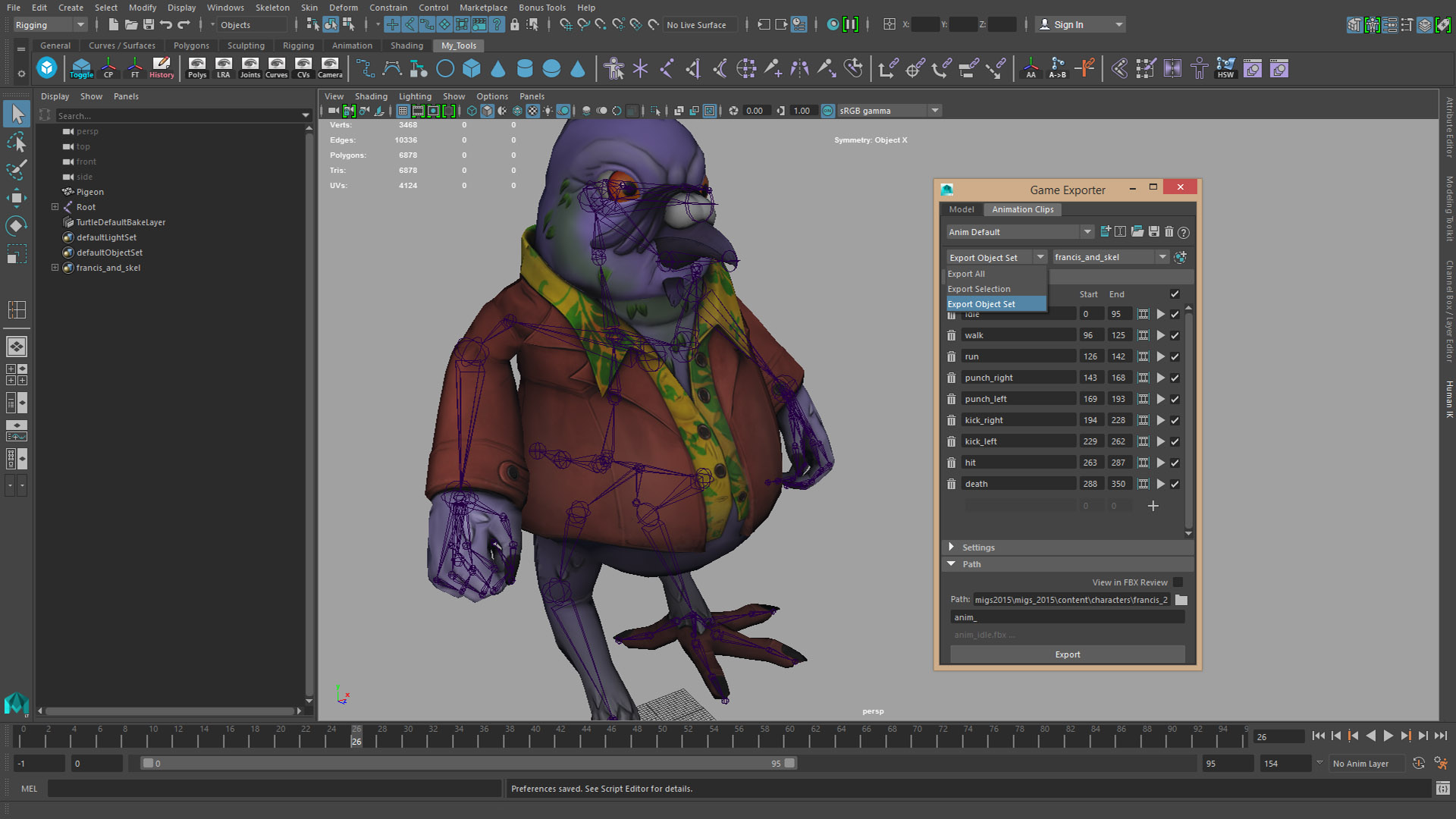 Finally, the game exporter gets a few small workflow tweaks, including the option to adjust the time range of an exported animation by clicking and dragging within the exporter itself.
Users can also now create custom selection sets from the objects selected in the viewport.
Pricing and availability
Maya LT Extension 3 will be released on 18 April 2016. The update is free to registered users of the software.
New licences are available for Windows and Mac OS X on a rental-only basis, starting at $30/month, and including access to Autodesk's Stingray game engine, version 1.2 of which has also been released at GDC.
Read more about Maya LT on Autodesk's product website
Tags: autodesk, automatic rigging, autorigger, blendshape, corrective blendshape, Delta Mush, Extension 3, Featured Articles, GDC 2016, Maya LT, Maya LT 2016, mirroring, price, Quick Rig, release date, roll bones, shape editor, Symmetrize UV, symmetry, UV Unfold