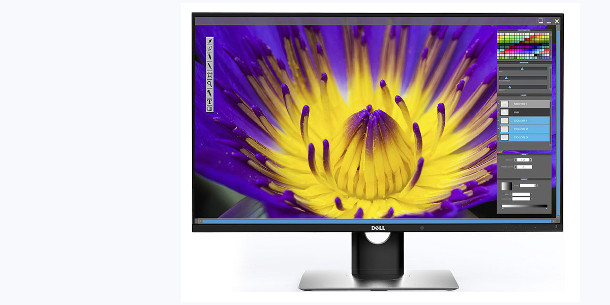 Dell has unveiled the new top-of-the-range model in its UltraSharp line of professional graphics displays.
The firm's 30″ UP3017Q (above) announced at CES 2016, is Dell's first display to use the new OLED (Organic Light-Emitting Diode) technology, promising unparalleled contrast ratios and response times.
In addition, Dell has announced new 24″ and 27″ UltraSharp InfinityEdge monitors based on more conventional LCD panels.
The UltraSharp 30″ OLED display: great contrast and response times, but a hefty price
The UP3017Q isn't the largest display in the UltraSharp range, which already includes 32″ and 34″ monitors, but it does boast the highest specs.
Its native resolution and colour gamut are cutting-edge: 3,840 x 2,160 Ultra HD 4K resolution, and 10-bit colour depth, spanning 100% of the AdobeRGB gamut.
But the difference to other ultra-high-end displays, like HP's DreamColor Z32x, which uses a conventional IPS LCD panel, is the contrast ratio and the response rate.
According to Dell, the UP3017Q's "typical" contrast ratio – the ratio of the luminance of the brightest white to the darkest black the monitor is capable of displaying – is 400,000:1.
HP quotes a dynamic contrast ratio of 5,000,000:1 for the Z32x, but the more accurate comparison seems to be to its much lower static contrast ratio of 1,000:1.
Tom's Hardware, who saw an early test model, describe the display as "stunning", noting OLED's "superior greyscale reproduction" and that "nothing can compare to OLED when it comes to black reproduction".
In addition, the UP3017Q has an incredibly low response time (0.1ms, compared to 8ms for the HP Z32x) and a high refresh rate (120Hz, compared to 60Hz for the Z32x).
However, that performance comes at a price: the UP3017Q boasts an eye-watering price tag of $4,999, whereas the street price of the Z32x is currently around $1,600.
New 24″ and 27″ InfinityEdge thin-bezel displays
In contrast, Dell's two other new UltraSharp displays, the 24-inch U2417HA and the 27-inch U2717DA, have more conventional specifications, with a 60Hz refresh rate.
The U2417HA has a native resolution of full HD (1,920 x 1,080), while the U2717DA is a QHD (2,560 x 1,440) display. Both reproduce 99% of the sRGB color gamut.
However, both use Dell's InfinityEdge design, reducing the size of the surrounding bezel, making multi-display setups much easier.
Pricing and availability
Dell UP3017Q UltraSharp 30″ OLED monitor will be available in the US on 31 March, priced at $4,999. It should be available in Europe in late June.
The U2417HA and U2717DA UltraSharp 24″ and 27″ InfinityEdge monitors will be available worldwide in late February. Prices start at $349 and $719, respectively.
Read Dell's official news announcement for the new UltraSharp displays
Tags: 4K, Dell, display, IPS, monitor, OLED, price, professional, refresh rate, release date, resolution, response rate, specifications, U2417HA, UltraSharp, UltraSharp 30 OLED, UP3017Q