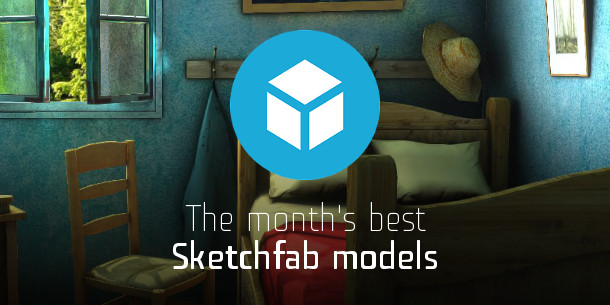 Sketchfab provides a simple way for anyone to publish and share their 3D models online. To celebrate the best in real-time 3D art, we asked the Sketchfab team to pick the 10 greatest models uploaded to the site this month.
To interact with a model in 3D, click the large Play icon in the centre of the frame.
To find out more about a model, click the small Sketchfab logo on the bottom left of the frame.
Van Gogh Room by Ruslan Solokovsky
11.3k faces
See the asset as part of the Art Alive Android 3D Pro app on Google Play.
Above and Below by Kevin Pauly
25.9k faces
Creature Bust by Chung Kan
256.0k faces
Find a commercial tutorial on the creation of the model on Gumroad.
Girl and Bird by qkqk2647
22.4k faces
Sad Office Room by Victor Estivador
7.2k faces
Cyber Armor by Fabrice Piquet
30.5k faces
Download the offline asset from Allegorithmic's Substance Share website.
Orc Thrower Animation by Faouzi Hamida
7.5k faces, animated
An animated character for Cyanide Studios' Blood Bowl 2.
Gregory vs Quixl Combat Loop (WIP) by Tom Schafer
6.9k faces, animated
The Cabin II by Jeremy Avery
1.0k faces
Visit Überwald by Alagremm
5.2k faces

Want to vote for a model of the month? Just Like your favourites on the Sketchfab site, or upload your own!
Tags: best 3D models, models of the month, real time, September 2015, Sketchfab