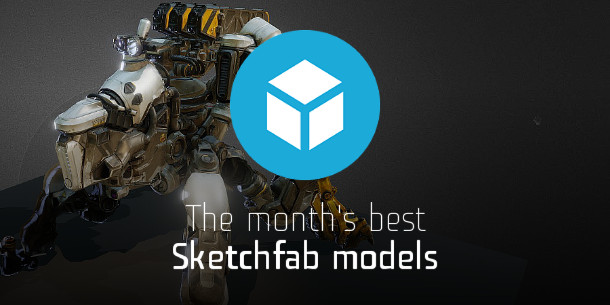 Sketchfab provides a simple way for anyone to publish and share their 3D models online. To celebrate the best in real-time 3D art, we asked the Sketchfab team to pick the 10 greatest models uploaded to the site this month.
To interact with a model in 3D, click the large Play icon in the centre of the frame.
To find out more about a model, click the small Sketchfab logo on the bottom left of the frame.
Quadruped Mech Animation by JHS
17.2k faces (Animated)
Steampunk Earth by Thomas Veyrat
48.5k faces (Animated)
COH2: The British Forces – 'Tommy' Idle by Relic Entertainment
5.5k faces (Animated)
Castanic by Yekaterina Bourykina
3.5k faces
TERA fan art. See wireframes and texture maps in Yekaterina's ArtStation gallery.
Sketchfab Investigation: "A cold death" by Robert Kotsch
4.6k faces
Dwarf Mortar by Bo Hsuan Chang
6.4k faces
Melt by Juan Carlos Montes
12.5k faces
Island Home by Kevin Pauly
28k faces
From a concept by Tom Robinson.
Stranded! by Tim Vizesi
178.5k faces
Classic car by asuslonov
14.8k faces

Want to vote for a model of the month? Just Like your favourites on the Sketchfab site, or upload your own!
Tags: August 2015, best 3D models, models of the month, real time, Sketchfab