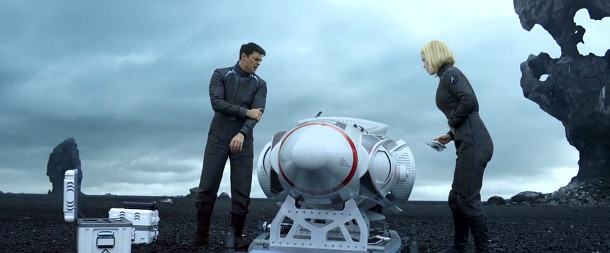 A still from Atomic Fiction's latest demo reel, showcasing the facility's effects work on Star Trek Into Darkness. We can't embed the reel itself, but click here to watch it on Vimeo.
Rising stars of the VFX world Atomic Fiction have posted a new demo reel, showcasing their work on movies like Flight, Transformers: Dark of the Moon, and Star Trek Into Darkness. (Mainly Star Trek, to be honest.)
The effects are as pretty as you'd expect, and the scenes of plane crashes, robot carnage and general destruction are accompanied by a curiously jaunty little tune.
Watch Atomic Fiction's new demo reel on Vimeo
Read our article on Flight's cloud rendering workflow
Tags: Atomic Fiction, breakdown, Demo reel, Flight, Looper, reel, showreel, Star Trek Into Darkness, Transformers 3, Transformers: Dark of the Moon, vfx, visual effects