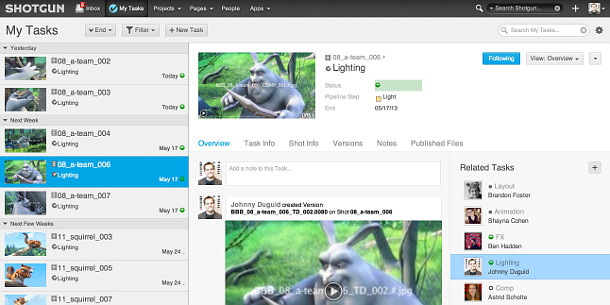 Shotgun 5.0's new My Tasks view enables artists using the production-management system to filter out their own key tasks from the mass of other notes and updates generated by large productions.
Shotgun Software has released Shotgun 5.0, its latest update to the industry-standard production-managment system. Version 5.0 includes a new UI designed to let artists sift out essential notes and tasks more easily.
The release comes just three months after the previous update to the software, which integrated the formerly separate review tool, Revolver, and asset-management system Tank.
PRESS RELEASE (Excerpts)
Shotgun Software, developer of Shotgun, the leading production-management system designed for the visual effects, animation and game industries, today released a complete product overhaul with Shotgun Version 5.0. Shotgun encompasses production tracking, scheduling, review and approval, helping modern production pipelines run as efficiently as possible – but now includes a new UI and toolset designed specifically for artists and supervisors.
Shotgun 5.0 also adds new tools for task tracking, review and approval, collaboration and search, and is still priced at $49.00 USD per seat, per month.
The version 5.0 build of Shotgun was designed together with artists who wanted simple and visual views of their essential tasks and key updates with tools to collaborate about their work with supervisors and peers. Shotgun 5.0 delivers that and more, including:
My Tasks—
A simple view of an artist''s tasks with key project information and updates presented in an easily digestible news feed format. My Tasks also displays who else is actively working with the artist at any given time, breaking down the walls that divide artists who often work in isolation whether co-located or at remote locations.
Inbox—
A visual collection of notes and important updates related to the artist''s work. Artists can customize their inbox by choosing to 'follow' progress of specific project shots or assets that are important to them filtering out updates that aren''t relevant to their tasks.
Global Search—
Search for anything in any project and receive an immediate, curated list of results with an easy-to-read news feed style layout.
Tags: asset management, My Tasks, new features, production management, Revolver, shot viewer, Shotgun, Shotgun 5.0, Shotgun Software, simpler, Tank, UI