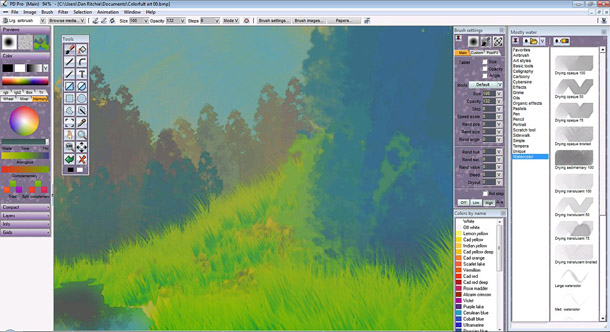 You wait for a 2D image-editing package to be made available for free, and then two come along at once.
But while Adobe may or may not have meant to make Photoshop CS2 publicly available earlier this week, downloaded copies of Project Dogwaffle 5 will definitely be legitimate.
The application, which includes natural media painting, animation "and all the things you'd expect of a graphics suite", runs under Windows XP and above, but has been retired due to performance issues in newer OSes.
According to the download page: "Version 5 was not yet optimized for the 'Desktop composition' feature that enabled the Aero 'glass' look, and thus needed the desktop composition compatibility flag checked to run at the best speed. When we found out this option was no longer available under Windows 8, we decided to remove this one [from sale]. We haven't tested this under Windows 8 … it will likely run fine, but with slower GUI functions."
More recent versions of the software, since renamed PD Pro Howler, are still available commercially. At time of posting, PD Pro Howler 6 costs $10, while version 8.2 is currently available at half price, for $50.
Visit the PD Pro Howler website
Tags: free, Howler, image editing, painting, Photoshop, Project Dogwaffle, Project Dogwaffle 5, TheBest3D