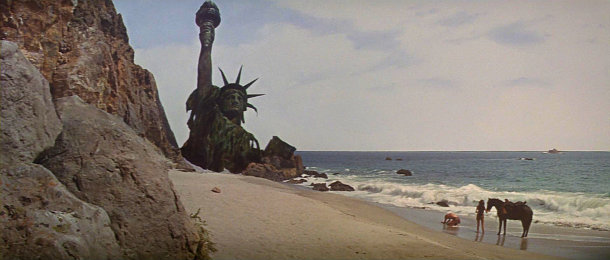 Planet of the Apes: number 16 in Shadowlocked's list of the 50 best (non-digital) matte paintings in history.
We're a sucker for old-fashioned matte paintings – the ones from the pre-digital days when every holdout had to be painted separately in oil paint on sheets of glass.
So we were particularly pleased to find The 50 Greatest Matte Paintings of All Time: an entirely self-explanatory article on movie news website Shadowlocked.
It could have been a potentially overwhelming topic, but author Peter Cook clearly knows the subject inside out, and – amazingly – has good images of each painting.
The movies themselves range from the obvious (Planet of the Apes) to the never-heard-of (minor 1991 Disney flick Wild Hearts Can't Be Broken) via the was-that-really-a-matte-effect? (Citizen Kane).
But the paintings themselves – and Cook's commentary on them – are uniformly gorgeous.
Read the full list on the Shadowlocked website
Tags: 50 greatest matte paintings, list, Peter Cook, pre-digital, Shadowlocked, special effects