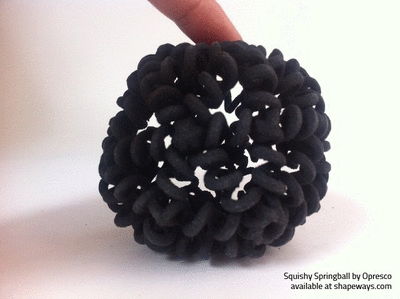 3D printing firm Shapeways has introduced an experimental new Black Elasto Plastic material, enabling users to get their designs fabricated in rubber – or something very close to it.
The material will be on test until 20 July, after which point the firm will make a decision on whether to add it permanently to its printing options, which range from acrylic to glass, ceramic, stainless steel and silver.
Shapeways warns that the material is porous and slightly grainy, so you may see some surface flaking, but at $2.00 per cubic centimetre, it's cheap enough to experiment with.
And if that hasn't sold you, check out this animated GIF of a spring ball from the Shapeways blog.
Black Elasto Plastic is available now as an option on the Shapeways site. The company recommends that walls and details are printed at least 1.5mm thick, and that hollow parts have a minimum hole diameter of 6.5mm.
Read more on the Shapeways blog
Tags: 3D printing, Black Elasto Plastic, black rubber, material, Shapeways