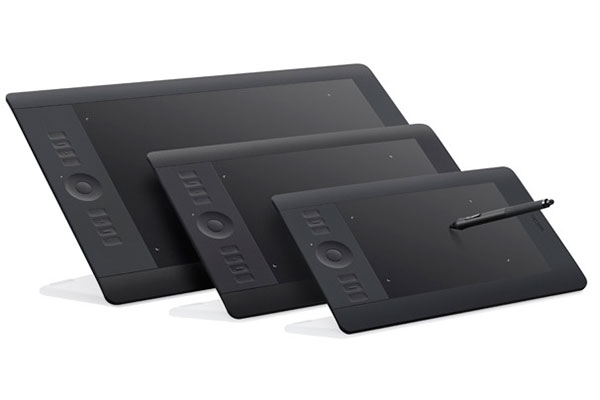 Wacom's latest generation of pen tablets are as stylish as ever, but while the multi-touch controls and optional wireless add-on are nice, they don't justify the cost of an upgrade from the Intuos4, argues Fernando Caire.
My relationship with Wacom's pen tablets was founded as much on style as on functionality. Besides the pressure sensitivity, the best feature of my Intuos2 was the removable clear plastic cover that allowed me to slip my favorite picture of The Joker under it.
But when I eventually upgraded to an Intuos3, it was clear the functionality had come on by leaps and bounds: touch-sensitive strips, quick keystroke buttons, and over two thousand levels of pressure sensitivity. The Intuos4 made welcome, but less drastic, improvements to the technology, while the Intuos5 range, released last month, offers both a new design and new multi-touch controls. So is the biggest change one of style, or of substance?
Design and ergonomics
The Intuos5 range's matte black finish looks very stylish, but I have mixed feelings about the ExpressKeys. Where the buttons used to be, there are now just indentations in the rubber surface. They aren't any more difficult to press, but the feel is definitely different, and takes some getting used to. The wheel control remains relatively unchanged and has four different functions you can switch between by pressing a button in the centre. A light at each corner of the wheel indicates which function you are about to use.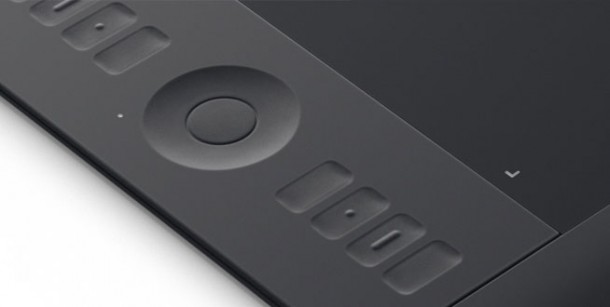 This is a feature that could usefully have been extended to the ExpressKeys: it is difficult to see, or even feel, which button you are trying to push when working in the dark. However, Wacom has foreseen the problem, and if you lightly pass your finger over the buttons, a diagram comes up on screen showing which one you are touching and its function. This brings me to the next feature – one I ended up using far more.
New multi-touch controls
Although the multi-touch controls take a little getting used to, they definitely speed up workflow. You can map gestures to any action or command you like: I set the preferences that so pinching zoomed in and out, stroking four fingers down undid the last action, and holding five fingers in place saved my work. You can also use one finger just to navigate the cursor and to click links, completely eliminating the need for a mouse. Touch sensitivity can be turned on and off manually, but as soon as the pen comes within range of the tablet, the multi-touch features are automatically disabled to avoid accidents.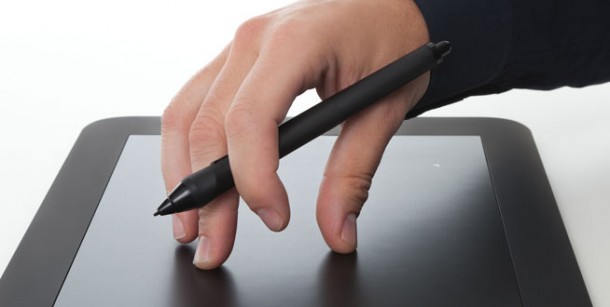 Whereas with the Intuos4 you had to commit to either the wired or wireless version, the Intuos 5 offers both options. For $39 extra, you can purchase a wireless kit from Wacom's website. Since I prefer the USB cord for my lap top but wireless for my desktop, this is a welcome change. (In theory, at least. Unfortunately, I haven't yet been able to test the wireless kit, so I can't tell you how well it works.) Another useful new feature is backwards compatibility: if you own Intuos4 pens with special functions, you can continue to use them on the Intuos5.
Better – but not dramatically better
Besides the touch sensitivity, there isn't much practical difference between the Intuos5 and the Intuos4. Unless you really want multi-touch controls (or to change your wireless options), I don't think an upgrade is necessary.
But despite my nit-picking, this is still a great tablet. It works fantastically well, and looks just as good. If you own an Intuos3, or are looking to buy for the first time, I cannot recommend the Intuos5 enough. It is sleek, stylish and works like a dream, giving you even more options to streamline your creative process.
The Intuos5 is available now in Small, Medium and Large sizes, with MSRPs from $229 to $469. The Extra Large model is currently only available in the old Intuos4 range. For more details, visit Wacom online.
Read full specifications for the Intuos5 range of pen tablets on Wacom's website
Tags: digital painting, graphics tablet, Intuos, Intuos5, multi touch, pen tablet, Review, tablet, Wacom, wireless