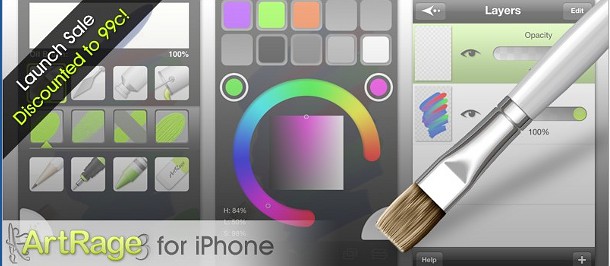 Ambient Design has released ArtRage for iPhone, an iOS version of its low-cost natural media paint tool. (Actually, it came out last week, but we missed it at the time, and it is well worth a look.)
Unlike, say, Adobe's Photoshop Express or Corel's Paint It! Now, which are geared towards the casual photography market, ArtRage for iPhone is a fully featured painting application.
All of the basics
Features include a range of oil, pencil and ink drawing tools; different canvas and paper types; and support for layers and tracing overlays.
At present, images can only be exported in JPEG or PNG format, but you can save out scene files and open them in the desktop version of ArtRage 2 or above.
As this comparison chart makes clear, the feature set is nowhere near as large as the desktop editions, but at just $1.99 – currently reduced even further to $0.99 by a launch offer – who's complaining?
Despite the name, ArtRage for iPhone is compatible with any device running iOS 4.3 or above, including iPads and iPod Touches – although in the latter case, you'd probably be better off with the existing dedicated iPad app.
Read a full list of features in ArtRage for iPhone
Buy ArtRage for iPhone in the App Store
Tags: app, Artrage for iPhone, iPad, iPhone, iPod, natural media, painting