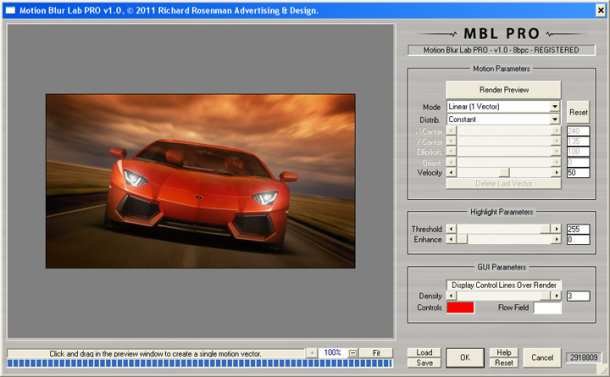 Developer Richard Rosenman has released MBL PRO, a custom motion blur plug-in for Photoshop.
The plug-in enables users to create complex multi-strength, multi-directional blur effects by manipulating motion vectors or a flow field.
We can see obvious uses in automotive visualisation, where blur often has to be tailored to a curving track, but we imagine it will also find a wider niche in retouching and CGI photography.
The software costs $99.99 and runs on any Windows system capable of running Photoshop 4.0 or above. There is no Mac OS X version yet, although Rosenman aims to add full 64-bit support.
MBL Pro joins Rosenman's existing custom depth-of-field plug-in, DOF PRO.
Visit the MBL Pro website
(The plug-in may be downloaded and run for free in Demo mode.)
Tags: MBL PRO, motion blur, Photoshop, Richard Rosenman