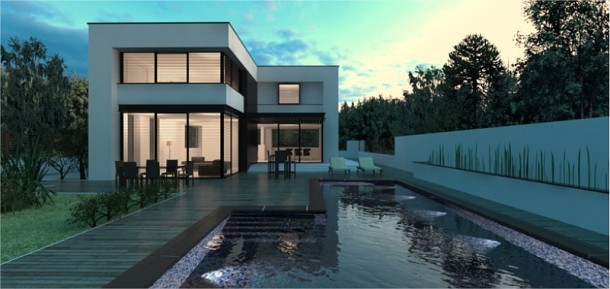 A V-Ray render by Ronen Bekerman, reworked in Thea Render by Madjid Rekeb. Compare the original here.
The Thea Render team has officially begun shipping its hybrid renderer, advertised as "the first commercial solution that contains both state-of-the-art biased and unbiased engines".
The software enables users to switch between the two rendering methods seamlessly, offering additional control over the trade-off between physical realism and rendering time.
In addition to standard features of renderers of both types (image-based lighting, DoF, SSS, motion blur, and so on), Thea Render includes an unbiased relighting system, Thea Relight, and a novel materials set-up.
The software uses a set of physically accurate preset materials are "as building blocks in a layering system that has been designed to produce highly energy-conservative material combinations."
As with Maxwell Render, the product comes as a standalone renderer with plug-ins to link it to other 3D applications: in this case, 3ds Max, Blender, Cinema 4D, modo, Rhino, SketchUp and Softimage – although not Maya, LightWave or CAD applications at present.
Thea Render is the first commercial release from the development team responsible for the popular free render engine Kerkythea. You can judge its quality for yourself in the showreel below.
The standalone costs €295.00 (around $410), while the plug-ins cost between €19.50 and €39.50 ($27-54). Thea Render is available for Windows, Mac OS X and Linux.
View the Thea Render showreel