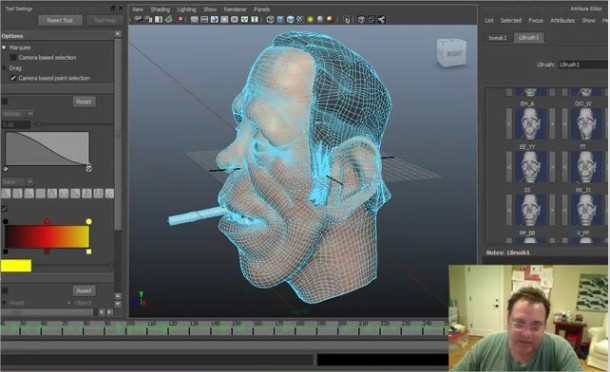 Joe Alter's new Maya plug-in, LipService, combines sculpting and animation tools for tasks ranging from creating corrective sculpts to adjust skinning and cloth simulation to faster facial animation workflow.
Joe Alter has released a beta of the new Maya version of LipService, his sculpting and animation toolset.
According to Alter's own product summary, LipService's animation tools "extend the multi-resolution editing philosophy [of sculpting packages like ZBrush and Mudbox] through to motion and rigging".
The toolset is designed enable artists to modify existing animations using corrective sculpting or pose space deformation: for example, to adjust skinning or cloth simulation problems more controllably than re-simming.
LipService also speeds up the process of creating facial animation and setting up shape libraries.
The Shave and a Haircut developer has had LipService in the works for a while: as this 3D World review of its original 3ds Max version shows, it was originally scheduled to ship in 2009.
The beta is available for Maya 2008 and above on Windows, OS X and Linux – and for the minute, it's free. Grab it while you can.
Read full product details here
Download the LipService for Maya beta here
Tags: animation, corrective sculpting, Joe Alter, LipService, Maya, plug-in, sculpting, Shave and a Haircut