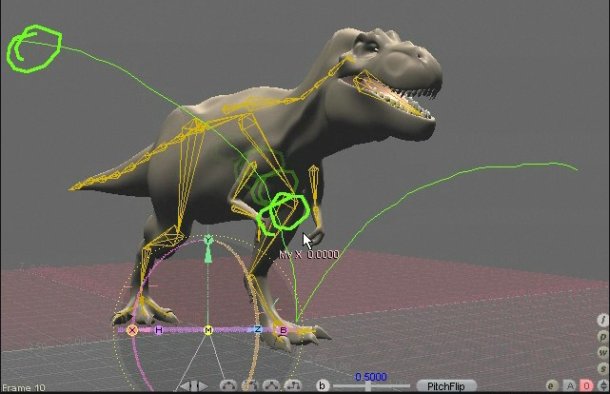 messiahStudio 5's new Sketch feature enables artists to draw directly onto the 3D view to annotate animations.
Developer pmG has released messiahStudio 5, the new version of its specialist animation and rendering app.
The release sports a lengthy list of new features, including a new interactive preview renderer, a sketch mode for annotating animations and the option to view displacement in OpenGL previews.
Other new features include instancing on the fly, additional hair options (including a 'Hair Glue' effect to force hair flow to follow underlying geometry), improved soft body dynamics and a range of performance boosts.
Although it only gets a fraction of the media coverage of other 3D applications, messiahStudio is a capable tool that slots into pipelines alongside all of the major 3D packages, and is used at a number of leading studios, including London's Darkside Animation.
The basic edition of the software costs $499, while the Pro edition is available for $699 until the end of the year. An additional discount is available for modo or Autodesk users.
Read a full list of new features here
View videos of the key features here
Tags: animation, interactive preview renderer, messiahStudio 5, pmG, Sketch