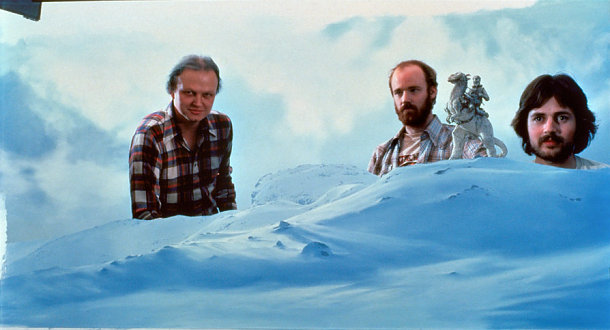 (Left to right) VFX legends Dennis Muren and Phil Tippett, and matte art legend Mike Pangrazio between two of Pangrazio's matte paintings for The Empire Strikes Back
Six-time VFX Oscar winner Dennis Muren needs no introduction to anyone interested in visual effects. But journalistic convention must prevail, so you can read an introduction on Wikipedia here.
More to the point, Muren has just shared his behind-the-scenes photos of some classic Industrial Light & Magic movies – including The Empire Strikes Back, Jurassic Park and Terminator 2 – with Vanity Fair.
Anyone traumatised as a child by the sight of the Nazi's head melting at the end of Raiders of the Lost Ark can take heart at the fact that it was all just a cleverly layered wax model; while if you're feeling frustrated with your 3D software, a glimpse of the incredibly primitive-looking interface for the modelling tools used on Jurassic Park will have you feeling better in no time. Fascinating stuff.
Read the Vanity Fair article online
Tags: behind-the-scenes photos, Dennis Muren, Empire Strikes Back, ILM, Jurassic Park, Raider of the Lost Ark, Terminator 2